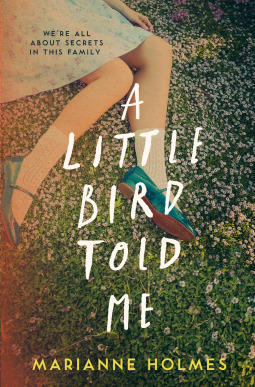 Title: A Little Bird Told Me
Author: Marianne Holmes
Publisher: Agora Books
P
ublishing Date: September 13th, 2018
Pages: 272
Genre: Adult Mystery
Series: Stand Alone
Source: Audio

In the scorching summer of 1976, Robyn spends her days swimming at the Lido and tagging after her brother. It's the perfect holiday – except for the crying women her mum keeps bringing home.

As the heatwave boils on, tensions in the town begin to simmer. Everyone is gossiping about her mum, a strange man is following her around, and worst of all, no one will tell Robyn the truth. But this town isn't good at keeping secrets…

Twelve years later, Robyn returns home, to a house that has stood empty for years and a town that hasn't moved on, forced to confront the mystery that haunted her that summer.

And atone for the part she played in it.
This was a book I grabbed off of Netgalley and well didn't get to til now. I was very excited for this book and it got lost in my pile. I loved the cover and the summary just called out to me. I am glad I was finally able to dig into this read and I really loved it. It was a great story, great mystery, and just all around good.
This is a story about a young woman and they way she comes to terms with some mistakes of her past. Robyn grew up without her father. She never met him and didn't know who he was. She lived with her mother and her brother, and her mothers boyfriend that was like a father. Life was good until the day her mother tried to help a woman out of a bad life. It all changed when a man approaches Robyn at the pool stating he knows her mother. Everything changed that summer. And now that Robyn is an adult she goes back to the house to face the truth about that summer.
I really really enjoyed this book. It's told in dual time lines... from Robyn's childhood and from the present with Robyn now about 21 years old. I do love this narrative. but... that isn't why I loved this book so much. This book was raw and bold and painful. It was dark and gritty and I just felt it down to my core.
There is a ton of mystery flowing through this book. I am sure that helped add to my love of the book. There is the mystery of Robyn's past that has multiple mysteries hiding in the memories. Each comes out slowly and is answered by the end of the book. There are many things that are going on at once in her past and the way they are all tied together to make just one hell of a summer was so well done. Everything that happened that summer led to one bang of an end.
The mysteries are what kept me reading but what really got me was the character development. Robyn is a young woman with a hurting girl stuck inside of her. She is held down by so much guilt and shame and loss that she has a hard time facing life. She is determined to face her past so she can finally move on.... but there are other reasons to be back to her childhood home.. Not only does she need to face the past but she also needs to find the proof to what really happened that summer. So she goes on a quest with the help of her brother and his childhood friend.
The ending was quite a bang for me and I loved how it all came together. Some things I had figured out and some things were quite a shock to me. It was good and if you like dark and gritty and painful and if you like a good mystery...this is a great read.
Loved it and I can't wait to read more from this author!