Delightful Discoveries are not yet or newly published books that we have discovered recently.
One sultry summer in the 1980s, a teenage girl arrived in the wealthy vacation town of Opal Beach to start her life anew—to achieve her destiny. But before the summer was up, she vanished.




Decades later, when Allison Simpson is offered the opportunity to house-sit in Opal Beach, it seems like the perfect chance to regroup and start fresh after a messy divorce. It's the off-season, after all, which means peace and quiet, and more importantly for Allison, safety.




But when Allison becomes drawn into the story of a girl who disappeared from town thirty years before, she begins to realize that Opal Beach isn't as idyllic as it seems. Beyond the walls of the gorgeous homes hide dark secrets. And as Allison digs deeper into the mystery, she uncovers not only the shocking truth, but finds herself caught in the middle of a twisted plot.




Part electric coming-of-age story and part breathtaking mystery, One Night Gone is an atmospheric, suspenseful novel about power, privilege, and ultimately, sisterhood.



Nothing much happens in the sleepy town of Shy in Avon-upon-Kynt. And for eighteen years, Emmaline Watkins has feared that her future held just that: nothing.




But when the head of the most admired fashion house in the country opens her prestigious design competition to girls from outside the stylish capital city, Emmy's dreams seem closer than they ever have before.




As the first "country girl" to compete, Emmy knows she'll encounter extra hurdles on her way to the top. But as she navigates the twisted world of high fashion she starts to wonder: will she be able to tailor herself to fit into this dark, corrupted race? And at what cost?
Rose Montgomery parks her family's trailer in Fort Glory, Oregon with one goal: to carve out a new life for herself and her little brother, Charlie. They need a fresh start for their family, and she thinks she's finally found it in a town where nobody knows them.




But Rose's plans come crashing down when, in an instant, Fort Glory disappears and every person in town vanishes into thin air—including Charlie.




Rose and four other teens become trapped in the Fold, a patch of woods caught halfway between the real world and the lost town. In the Fold, a mysterious force suspends the laws of physics, and everyone's inner darkness has the power to kill.




To survive the Fold, Rose must unravel the clues Charlie sends her from the missing town. And Rose has to find Charlie soon—or he'll be gone forever.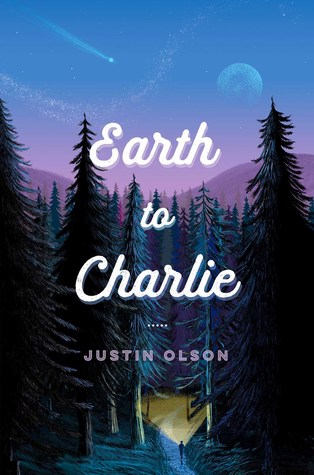 A high school outcast spends his life hoping to be abducted by aliens in this funny, quirky novel about finding your footing in a world that sometimes feels like Mars.




Convinced his mother has been abducted by aliens, Charlie Dickens spends his nights with an eye out for UFOs, hoping to join her. After all, she said the aliens would come back for him. Charlie will admit that he doesn't have many reasons to stick around; he doesn't get along well with his father, he's constantly bullied at school and at work, and the only friend he has is his 600-pound neighbor Geoffrey, and Geoffrey's three-legged dog, Tickles.




Then Charlie meets popular, easy-going Seth, who shows him what real friendship is all about. For once, he finds himself looking around at the life he's built, rather than looking up. But sooner than he expected, Charlie has to make a decision: should he stay or should he go?









Something made him angry that night.

Something made her cry.

Something made Trixie disappear.

What if it was all the same thing?




Fiona claims she doesn't remember anything about the night her best friend left a party early and walked into the ocean. But the truth is, she wishes she could forget.




Trixie's disappearance is ruled a suicide, but Fiona starts to believe that Trixie isn't really dead. Piecing together the trail of a girl who doesn't want to be found leads her to Jasper, Trixie's former friend with benefits, and Beau—the boy who turned Fiona down, who loved someone else, who might be happy Trixie is gone.




The closer Fiona gets to finding out what happened, and the closer she gets to Jasper and Beau, the more she realizes that the girl she knew better than anyone may have been a carefully constructed lie—and she might have been waiting to disappear the entire time.




Told in alternating chapters between the past and the present,Last Girl Lied To is a gripping emotional thriller






After an awkward first encounter, Birdie and Daniel are forced to work together in a Seattle hotel where a famous author leads a mysterious and secluded life in this romantic contemporary novel from the author of Alex, Approximately.




Mystery-book aficionado Birdie Lindberg has an overactive imagination. Raised in isolation and homeschooled by strict grandparents, she's cultivated a whimsical fantasy life in which she plays the heroic detective and every stranger is a suspect. But her solitary world expands when she takes a job the summer before college, working the graveyard shift at a historic Seattle hotel.




In her new job, Birdie hopes to blossom from introverted dreamer to brave pioneer, and gregarious Daniel Aoki volunteers to be her guide. The hotel's charismatic young van driver shares the same nocturnal shift and patronizes the waterfront Moonlight Diner where she waits for the early morning ferry after work. Daniel also shares her appetite for intrigue, and he's stumbled upon a real-life mystery: a famous reclusive writer—never before seen in public—might be secretly meeting someone at the hotel.




To uncover the writer's puzzling identity, Birdie must come out of her shell…discovering that most confounding mystery of all may be her growing feelings for the elusive riddle that is Daniel.