Board Game Break Time is a new feature we're bringing in, where we play board games and review them.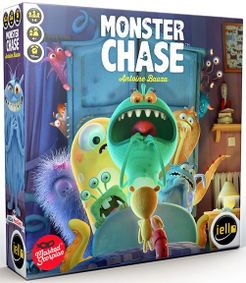 Title: Monster Chase
Manufacturer: Iello
Release Date: 2009
Game Type: Children's Memory Game
# of Players: 1-5
Ages: 4+
Play Time: 10 Minutes


This is a super easy and super adorable game. It's really easy to learn and has a simple game play. There are a few different types of monsters and every monster card has a toy on it. The squares each have a different toy and you lay them upside down. You take turns guessing (Or remembering) where the right toys are. Once you get it you send the monster back to the closet, which is Finn's favorite part. He screams "Get back in there monster!"
If you don't get it correct there are three tiles that you lay next to each other and you flip them over, once you get three incorrect you get a new monster. I think if you have 4 monsters out you lose. But I can't quite remember.
This game is of course way too simple for us as adults, but seeing Finn have so much fun with it makes it fun for us too.
Overall:
Learn-ability:
Game-play:
Length of play:
Artwork:
Theme:
Fun:
What Finn Thought:
I like this game a lot! I like getting the monsters into the closet with the toys! The squares show toys and when you get the right toy on the card that matches the monster we get the monster back into the closer and I say "get back in there monster!"
There are different monsters and they're cute!
Overall :
Learn-ability:
Game-play:
Length of play:
Artwork:
Theme:
Fun: