It's Graphic Time is a feature where we review graphic novels and comic books.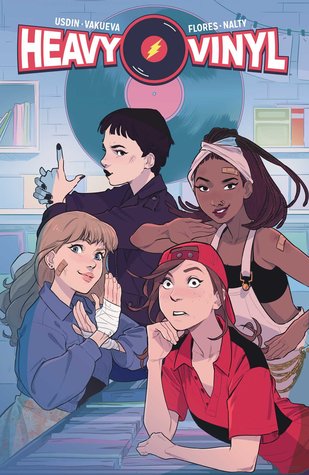 Title: Heavy Vinyl
Author: Carly Usdin
Illustrator: Nina Vakueva
Publishing Date: April 10th, 2018
Pages: 112
Genre: YA Contemporary Graphic Novel
Series: Heavy Vinyl Vol. 1

When Chris joins the staff at her local record store, she's surprised to find out that her co-workers share a secret: they're all members of a secret fight club that take on the patriarchy and fight crime!
Starry-eyed Chris has just started the dream job every outcast kid in town wants: working at Vinyl Mayhem. It's as rad as she imagined; her boss is BOSS, her co-workers spend their time arguing over music, pushing against the patriarchy, and endlessly trying to form a band. When Rosie Riot, the staff's favorite singer, mysteriously vanishes the night before her band's show, Chris discovers her co-workers are doing more than just sorting vinyl . . . Her local indie record store is also a front for a teen girl vigilante fight club!

Follow writer Carly Usdin (director of Suicide Kale) and artist Nina Vakueva (Lilith's World) into the Hi-Fi Fight Club, where they deliver a rock and roll tale of intrigue and boundless friendship.
What made me pick this book up:
I was looking for graphic novels and the cover caught my eye.
What did I like about the cover:
I love the bright colors the most.
What made me read this book:
I love the idea of an all girl fight club.
Would I read the rest of the series/more from this author?
YES! There is no second one yet??? And I'm so upset by it. I NEED the second. Because at the end it says "The end... For now"
I'll probably check out her other one, the Avant-Guards.
I love the artwork for this! The colors are bright and happy. The girls are all drawn super cute.
The characters are all sweet and adorable. I love each and every one of them and I can't wait to read more about them!
Chris and Maggie are my favorites.
Followed closely by Kennedy's boyfriend, who I didn't get a picture of. He cracked me up.
And the rest are kind of on the same level. I didn't dislike them, but they weren't my favorites.
Everything kinda happens pretty fast. This was actually a pretty short graphic novel. But it works for this.
Again this was pretty short. It's really interesting that there's a fight club of teen girls. It's fun. I like the fact that they're not only a fight club, they're like a... they solve mysteries! Detective Fight Club. That's what I'm trying to say.
I absolutely loved this book!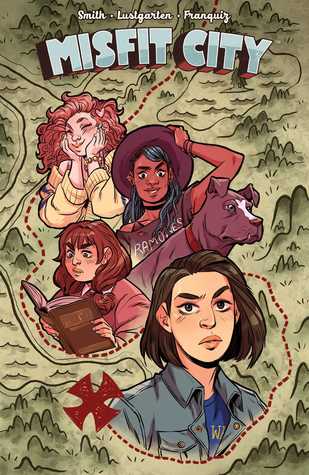 Carly Usdin is an award-winning filmmaker based in Los Angeles. Her first feature, Suicide Kale, won the Audience Award for Best First Feature at Outfest 2016. After playing over 30 festivals worldwide the film is now available on iTunes and Amazon Prime. In 2017 Carly served as showrunner and director for the scripted series Threads, produced by New Form for Verizon's go90 platform. The 20-episode horror and comedy anthology series brought to life outrageous stories from internet forums like Reddit.
Carly is also the creator and writer of two comic book series for BOOM! Studios: Heavy Vinyl (in stores now) and The Avant-Guards (out in January 2019). Heavy Vinyl was nominated for a 2018 Prism award, honoring the best in LGBTQAI+ comics.
Carly has spent years making short-form narrative and branded content for clients like Funny or Die, CollegeHumor, Amy Poehler's Smart Girls, World of Wonder, CBS, Fullscreen, Astronauts Wanted, Portal A, TruTV, Viacom and YouTube. Most notably, she directed the third season of Awkwafina's digital series Tawk. Her promo campaigns for RuPaul's Drag Race have won One Show Awards and Promax BDA Awards.

Carly has recently completed post-production on her short film Misdirection, created as part of the American Film Institute's Directing Workshop for Women, class of 2019. Currently she is developing several projects through her production company Scheme Machine Studios, which she owns with her wife, photographer and producer Robin Roemer