Ash:

The Lovely Bones is the story of a family devastated by a gruesome murder -- a murder recounted by the teenage victim. Upsetting, you say? Remarkably, first-time novelist Alice Sebold takes this difficult material and delivers a compelling and accomplished exploration of a fractured family's need for peace and closure.
The details of the crime are laid out in the first few pages: from her vantage point in heaven, Susie Salmon describes how she was confronted by the murderer one December afternoon on her way home from school. Lured into an underground hiding place, she was raped and killed. But what the reader knows, her family does not. Anxiously, we keep vigil with Susie, aching for her grieving family, desperate for the killer to be found and punished.
Sebold creates a heaven that's calm and comforting, a place whose residents can have whatever they enjoyed when they were alive -- and then some. But Susie isn't ready to release her hold on life just yet, and she intensely watches her family and friends as they struggle to cope with a reality in which she is no longer a part. To her great credit, Sebold has shaped one of the most loving and sympathetic fathers in contemporary literature
I have had this on my TBR for as long as I can remember. I think I'm going to finally give up on it.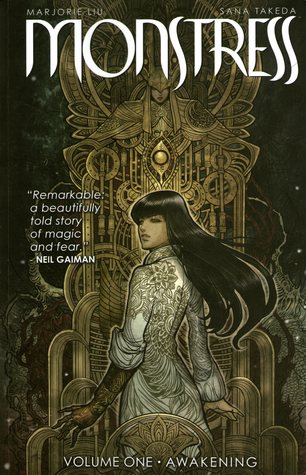 Set in an alternate matriarchal 1900's Asia, in a richly imagined world of art deco-inflected steam punk, MONSTRESS tells the story of a teenage girl who is struggling to survive the trauma of war, and who shares a mysterious psychic link with a monster of tremendous power, a connection that will transform them both and make them the target of both human and otherworldly powers. Collects MONSTRESS #1-6
Definitely keeping this one. I own it, I just need to read it.






Parallel plotlines, one told in text and one in art, inform each other as a young girl unravels the mystery of a ghost next door.

Mary is an orphan at the Thornhill Institute for Children at the very moment that it's closing down for good. But when a bully goes too far, Mary's revenge will have a lasting effect on the bully, on Mary, and on Thornhill itself.

Years later, Ella moves to a new town where she has a perfect view of the dilapidated, abandoned Thornhill Institute. Determined to befriend the mysterious, evasive girl she sees there, Ella resolves to unravel Thornhill's history and uncover its secrets.

Ella's story is told through striking, bold art; Mary's is told through diary entries. Each informs the other until the two eventually intersect to reveal the truth behind Thornhill's shadowy past, once and for all. Strikingly told and masterfully illustrated, Pam Smy bends genres and expectations alike
Definitely going to keep this one, it looks amazing.