Board Game Break Time is a new feature we're bringing in, where we play board games and review them.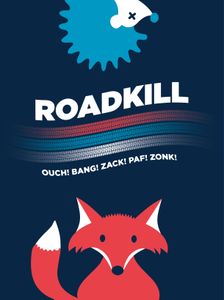 Title: Roadkill
Manufacturer: Helvetiq
Release Date: 2017
Designer: Martin Nedegaard Andersen
Game Mechanism: Set Collection, Take That
# of Players: 3-5
Best: 4-5
Ages: 7+
Play Time: 20-30 minutes


This was definitely an interesting game. The graphics are adorable, it's a really simple game of "screw your neighbor"
There is a road that you have to fill up. The top row and the bottom row, which adds to 8 animals. You cannot have to of the same animals in a row.
There are dead animals that you can put on your neighbors boards. Either to cover an alive animal or just to fill a space.
There are special cards too. The horn makes the alive animal run away, if the alive animal is on top of the dead animal.
You can also put a truck on others cards so it kills the alive animals and they can't move it.
The vet saves the dead animals. Zombies probably.
And then the street sweep gets the dead animals off. It sweeps all the dead animals off that one row
John and my mom decided to go against each other the first time we played. So I just kept quiet and they ignored me. So I won.
It's a lot of fun. It's even better the more people you have. Three is just kinda meh.
Overall:
Learn-ability:
Game-play:
Length of play:
Artwork:
Theme:
Fun:
This game was a surprise to me. This was Ashlea's pick for a game and I was a little hesitant. I am not much on party games... but this game was pretty fun. The more people, the better. It's pretty fast paced and a heavy on the take that. Which is not normally my kind of game either. But I did have fun with this one. I really liked the artwork too. It's a cute little game.
Overall:
Learn-ability:
Game-play:
Length of play:
Artwork:
Theme:
Fun: