Genre Definition and Recommendation is a feature where I will define a genre and a sub-genre definition and the make some recommendations.
Science Fiction- is a genre of fiction dealing with imaginary but more or less plausible (or at least non-supernatural) content such as future settings, futuristic science and technology, space travel, aliens, and paranormal abilities.
The alien invasion is a common theme in science fiction stories and film, in which extraterrestrials invade Earth either to exterminate and supplant human life, enslave it under a colonial system, harvest humans for food, steal the planet's resources, or destroy the planet altogether.



Tate and his father don't exactly get along. As Tate sees it, his father has unreasonably high expectations for Tate to be the best—at everything. Tate finally learns what he's being prepared for when he steals one of his dad's odd tech inventions and mercenaries ambush the school, killing his father in the process and sending Tate on the run from aliens who look just like humans.




All Tate knows--like how to make weapons out of oranges and lighter fluid--may not be enough to save him as he's plunged into a secret inter-species conflict that's been going on for centuries. Aided only by his girlfriend and his estranged mother, with powerful enemies closing in on all sides, Tate races to puzzle out the secret behind his father's invention and why so many are willing to kill for it. A riveting, fast-paced adventure, Scan is a clever alien thriller with muscle and heart.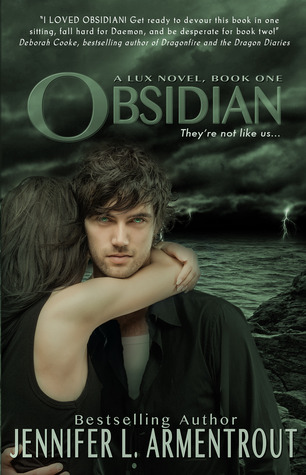 Obsidian by Jennifer L. Armentrout



Starting over sucks.




When we moved to West Virginia right before my senior year, I'd pretty much resigned myself to thick accents, dodgy internet access, and a whole lot of boring... until I spotted my hot neighbor, with his looming height and eerie green eyes. Things were looking up.




And then he opened his mouth.




Daemon is infuriating. Arrogant. Stab-worthy. We do not get along. At all. But when a stranger attacks me and Daemon literally freezes time with a wave of his hand, well, something... unexpected happens.




The hot alien living next door marks me.




You heard me. Alien. Turns out Daemon and his sister have a galaxy of enemies wanting to steal their abilities, and Daemon's touch has me lit up like the Vegas Strip. The only way I'm getting out of this alive is by sticking close to Daemon until my alien mojo fades.




If I don't kill him first, that is.
What Do you Recommend?