sentences out of our current read to pique others' curiosity.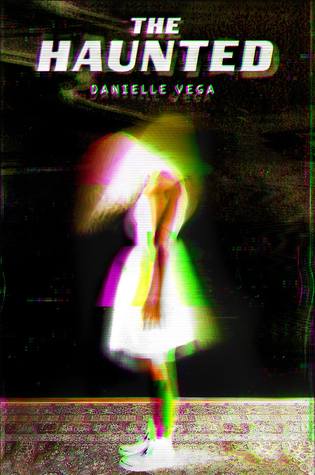 From Danielle Vega, YA's answer to Stephen King, comes a new paranormal novel about dark family secrets, deep-seated vengeance, and the horrifying truth that evil often lurks in the unlikeliest of places.

Hendricks Becker-O'Malley is new in town, and she's bringing baggage with her. With a dark and wild past, Hendricks doesn't think the small town her parents moved her to has much to offer her in terms of excitement. She plans on laying low, but when she's suddenly welcomed into the popular crowd at school, things don't go as expected.

Hendricks learns from her new friends that the fixer-upper her parents are so excited about is notorious in town. Local legend says it's haunted. Hendricks doesn't believe it. Until she's forced to. Blood-curdling screams erupt from the basement, her little brother wakes up covered in scratches, and something, or someone pushes her dad down the stairs. With help from the mysterious boy next door, Hendricks makes it her mission to take down the ghosts . . . if they don't take her first.
Hendricks took the stairs two at a time, wine and blood dripping from her hair and sweatshirt. She threw the cellar door open and crawled outside. She didn't shiver as the January air whipped over her bare arms; she didn't even feel it. She didn't feel the wine seeping through her bra, or the cuts that covered her arms. All she felt was numb.
Jenn's:
Summer of '69 by Todd Strasser



Celebrating the 50th anniversary of Woodstock and the remarkable summer that led up to it. Featuring Sir Lucas of the Round Table(t). Astonishingly autobiographical. Remarkably personal. Profoundly irresponsible.

Drawing from his teenage years, Todd Strasser's novel revisits a tumultuous era and takes readers on a psychedelically tinged trip of a lifetime.

With his girlfriend, Robin, away in Canada, eighteen-year-old Lucas Baker's only plans for the summer are to mellow out with his friends, smoke weed, drop a tab or two, and head out in his microbus for a three-day happening called the Woodstock Music and Art Fair. But life veers dramatically off track when he suddenly finds himself in danger of being drafted and sent to fight in Vietnam. If that isn't heavy enough, there's also the free-loving (and undeniably alluring) Tinsley, who seems determined to test Lucas's resolve to stay faithful to Robin; a frighteningly bad trip at a Led Zeppelin concert; a run-in with an angry motorcycle gang; parents who appear headed for a divorce; and a friend on the front lines in 'Nam who's in mortal danger of not making it back. As the pressures grow, it's not long before Lucas finds himself knocked so far down, it's starting to look like up to him. When tuning in, turning on, and dropping out is no longer enough, what else is there?
T
ease
r:
Tock, tick. Robin hasn't uttered a word in … five minutes? Ten? As captain Lucas attempts to navigate his flimsy vessel homeward, inside his skull, stewed synapses sputter, then spark with tiny twinkles of light.