This feature I will just gab, remark, feature book covers.
For this cover up I will be comparing two different editions of the same book, from books I've read recently. I will try to do this every couple weeks or so. Can be from a different country, or just a different edition in general
1 hour, 43 minutes

An ode to Put the Damn Guns Down, this is New York Times bestseller Jason Reynolds's fiercely stunning novel that takes place in sixty potent seconds—the time it takes a kid to decide whether or not he's going to murder the guy who killed his brother.

A cannon. A strap.

A piece. A biscuit.

A burner. A heater.

A chopper. A gat.

A hammer

A tool

for RULE

Or, you can call it a gun. That's what fifteen-year-old Will has shoved in the back waistband of his jeans. See, his brother Shawn was just murdered. And Will knows the rules. No crying. No snitching. Revenge. That's where Will's now heading, with that gun shoved in the back waistband of his jeans, the gun that was his brother's gun. He gets on the elevator, seventh floor, stoked. He knows who he's after. Or does he? As the elevator stops on the sixth floor, on comes Buck. Buck, Will finds out, is who gave Shawn the gun before Will took the gun. Buck tells Will to check that the gun is even loaded. And that's when Will sees that one bullet is missing. And the only one who could have fired Shawn's gun was Shawn. Huh. Will didn't know that Shawn had ever actually USED his gun. Bigger huh. BUCK IS DEAD. But Buck's in the elevator? Just as Will's trying to think this through, the door to the next floor opens. A teenage girl gets on, waves away the smoke from Dead Buck's cigarette. Will doesn't know her, but she knew him. Knew. When they were eight. And stray bullets had cut through the playground, and Will had tried to cover her, but she was hit anyway, and so what she wants to know, on that fifth floor elevator stop, is, what if Will, Will with the gun shoved in the back waistband of his jeans, MISSES.

And so it goes, the whole long way down, as the elevator stops on each floor, and at each stop someone connected to his brother gets on to give Will a piece to a bigger story than the one he thinks he knows. A story that might never know an END…if WILL gets off that elevator.
Ame
rican Cover Indonesian Cover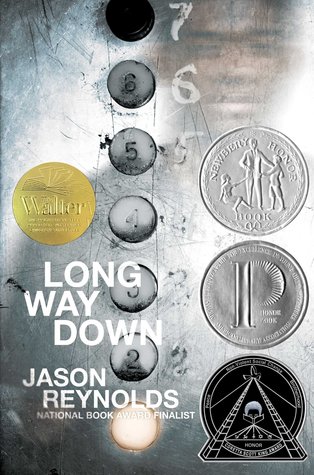 I like the original cover actually.
Just listen, Adam says with a voice that sounds like shrapnel.

I open my eyes wide now.

I sit up as much as I can.

And I listen.

Stay, he says.

Choices. Seventeen-year-old Mia is faced with some tough ones: Stay true to her first love—music—even if it means losing her boyfriend and leaving her family and friends behind?

Then one February morning Mia goes for a drive with her family, and in an instant, everything changes. Suddenly, all the choices are gone, except one. And it's the only one that matters.

If I Stay is a heartachingly beautiful book about the power of love, the true meaning of family, and the choices we all make.
A
me
rican Cover Other American Cover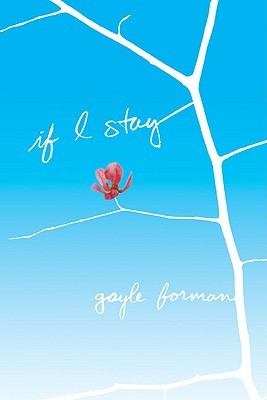 I don't like the one on the left at all. But I absolutely love the one on the right.
Girls started vanishing in the fall, and now winter's come to lay a white sheet over the horror. Door County, it seems, is swallowing the young, right into its very dirt. From beneath the house on Water Street, I've watched the danger swell.

The residents know me as the noises in the house at night, the creaking on the stairs. I'm the reflection behind them in the glass, the feeling of fear in the cellar. I'm tied—it seems—to this house, this street, this town.

I'm tied to Maggie and Pauline, though I don't know why. I think it's because death is coming for one of them, or both.

All I know is that the present and the past are piling up, and I am here to dig.I am looking for the things that are buried.

From bestselling author Jodi Lynn Anderson comes a friendship story bound in snow and starlight, a haunting mystery of love, betrayal, redemption, and the moments that we leave behind.
A
me
rican Cover Spanish Cover
This one was hard for me, there was two that I had to pick between, besides the original one. I love both of these, and the third one... I can't pick between them. (See below)



It's in the rain...and just one drop will kill you.

They don't believe it at first. Crowded in Zach's kitchen, Ruby and the rest of the partygoers laugh at Zach's parents' frenzied push to get them all inside as it starts to drizzle. But then the radio comes on with the warning, "It's in the rain! It's fatal, it's contagious, and there's no cure."

Two weeks later, Ruby is alone. Anyone who's been touched by rain or washed their hands with tap water is dead. The only drinkable water is quickly running out. Ruby's only chance for survival is a treacherous hike across the country to find her father-if he's even still alive.
I love the UK cover.
The chocolate went first, then the cheese, the fries, the ice cream. The bread was more difficult, but if she could just lose a little more weight, perhaps she would make the soloists' list. Perhaps if she were lighter, danced better, tried harder, she would be good enough. Perhaps if she just ran for one more mile, lost just one more pound.

Anna Roux was a professional dancer who followed the man of her dreams from Paris to Missouri. There, alone with her biggest fears – imperfection, failure, loneliness – she spirals down anorexia and depression till she weighs a mere eighty-eight pounds. Forced to seek treatment, she is admitted as a patient at 17 Swann Street, a peach pink house where pale, fragile women with life-threatening eating disorders live. Women like Emm, the veteran; quiet Valerie; Julia, always hungry. Together, they must fight their diseases and face six meals a day.

Yara Zgheib's poetic and poignant debut novel is a haunting, intimate journey of a young woman's struggle to reclaim her life. Every bite causes anxiety. Every flavor induces guilt. And every step Anna takes toward recovery will require strength, endurance, and the support of the girls at 17 Swann Street.