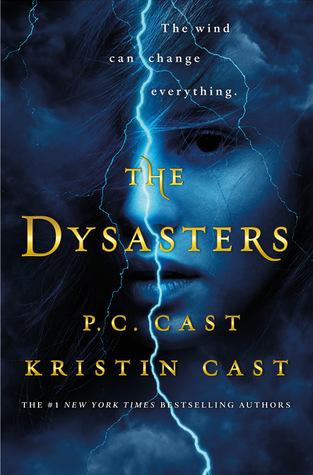 Title: The Dysasters
Author: P.C. Cast and Kristin Cast
Publisher: Wednesday Books
P
ublishing Date:
Pages: 320
Genre: YA Sci- Fi Fantasy
Series: The Dysasters #1
Source: Audio

Foster Stewart knows she's different. Her life has never been "normal." Talking to plants and controlling cloud formations aren't things most seventeen year olds are into. Tate "Nighthawk" Taylor is perfect. Star quarterback and all around dreamy boy next door he never thought about his "extra" abilities. What quarterback wouldn't want night vision? That's not weird, right? It's cool!

But on the night of their first meeting a deadly tornado brings them together and awakens their true abilities - the power to control the element air. Unbeknown to Tate and Foster, they are the first in a group of teens that were genetically manipulated before birth to bond with the elements. Which truly sucks for Foster, as she has to face the fact that Dr. Rick Stewart, her beloved scientist father, betrayed her and now wants to use her and the others for his own nefarious world domination plot.

Foster and Tate must stop Dr. Stewart and his minions before he destroys their lives and the world.
I was really excited about this book. I didn't particularly like the House of Night books but this book sounded interesting so I figured I would give this book a chance. I am very torn on my feelings for this book. I had some issue with this read but I also found the idea and premise interesting. So I am torn. I enjoyed it but not really. It's really hard to put into words my final judgment. I will try.
There are these kids that are being hunted because they have an infinity to the elements. Wind, Fire, Earth, and water. They can call on these elements and make things happen. A mad scientist did this to them when they were babies or when they were created. Their powers are now coming in since they are all truing 18 years of age. The mad scientist wants them back. Full reasons unknown, but he thinks he can use them for multiple things. These book is mainly getting to know some of the kids and what they can do and watch them as they learn they are special.
Okay so let me get into this. I always find the idea of elementals to be interesting. I would love to have an infinity to an element. I think mine would be earth. But hard to say. I know once upon a time this was a more common idea in YA books but as of late they aren't really out there. SO I wanted to grab this one up and read it. I was so very excited.... then I was disappointed.
The things I enjoyed... watching the kids learn to control their powers... learn what they could do.
The idea that these kids were being hunted and they were constantly on the run.
One character... the grandfather of one the kids... just stole the book for me. He was so fun and awesome.
That is about it. The rest of it I had issues with . Here are my issues.
The authors seemed to try to hard on diversity. It felt forced and still stereotypical. I am all for diversity... it needs to feel natural and that it belongs. It's worse for me to have the diversity in the books when it feels forced. As if a statement was needed to be made and that was it. I want it to feel the world is full of diversity so duh so are our books.
All the characters felt cliche and fake at the same time. I really couldn't connect. They were developed so cliche but the cliche they had didn't seem to fit right either. So it was strange.
The romance was all wrong. I really couldn't feel it. It went too fast from I hate you to I love you with nothing int he middle to show they were even remotely starting to feel for each other.
Too many questions about the scientist and they kids and original four elementals that were older. I just felt so much was missing.
There were too many corny cheesy... more than what is fun...lines in the book. I was rolling my eyes quite often.
So there you have it. My problem is this. I did still enjoy it enough to want to know what happens but disliked it enough to be fearful of reading more. I really want to know more... because of all the things that were missing. Also only 4 of the 8 elemental kids were introduced. Maybe the others will be better. Maybe just the two main characters I really didn't like. So will I read the next one. I think I will give this series one more chance. I won't be in a hurry though.
I really feel that this book was just rushed and lacking so much personality and gusto. I found nothing special with it and didn't connect. It felt more like a rough draft than a finished product. I hate to say this. But the idea and the potential was there. Just fell short in the end.
Uh.... well I didn't love it but I didn't hate it. It's just like meh.




PC was born in the Midwest, and grew up being shuttled back-and-forth between Illinois and Oklahoma, which is where she fell in love with Quarter Horses and mythology (at about the same time). After high school, she joined the United States Air Force and began public speaking and writing. After her tour in the USAF, she taught high school for 15 years before retiring to write full time. PC is a #1 New York Times and #1 USA Today Best-Selling author and a member of the Oklahoma Writers Hall of Fame. Her novels have been awarded the prestigious: Oklahoma Book Award, YALSA Quick Pick for Reluctant Readers, Romantic Times Reviewers' Choice Award, the Prism, Holt Medallion, Daphne du Maurier, Booksellers' Best, and the Laurel Wreath. PC is an experienced teacher and talented speaker. Ms. Cast lives in Oregon near her fabulous daughter, her adorable pack of dogs, her crazy Maine Coon, and a bunch of horses. House of Night Other World, book 1, LOVED, releases July 11th. SUN WARRIOR, book 2 in the Tales of a New World series releases October 17th.

Kristin Cast is a #1 NY Times and #1 USA Today bestselling author who teamed with her mother to write the wildly successful HOUSE OF NIGHT series. She has editorial credits, a thriving t-shirt line, and a passion for all things paranormal.
When away from her writing desk, Kristin loves going on adventures with her friends, family, and significant other, playing with her French Bulldogs (Grace Kelly and Sir Laurence Olivier), and discovering new hobbies. This year she'll work on handstands, gardening, and taking her new puppy (Baloo) to puppy classes.
#HoNLoved releases July 11th.