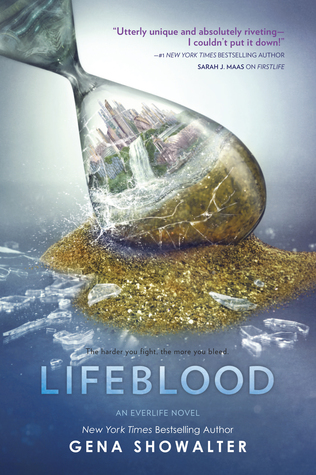 Title: Lifeblood
Author: Gena Showalter
Publisher: Harlequin
Publishing Date: February 28th, 2017
Pages: 443
Genre: YA Fantasy
Series: Everlife #2
Source: Audio
My Firstlife is over, but my Everlife is only now beginning.

With her last living breath, Tenley "Ten" Lockwood made her choice and picked her realm in the Everlife. Now, as the war between Troika and Myriad rages, she must face the consequences.

Because Ten possesses a rare supernatural ability to absorb and share light, the Powers That Be have the highest expectations for her future—and the enemy wants her neutralized. Fighting to save her Secondlife, she must learn about her realm from the ground up while launching her first mission: convincing a select group of humans to join her side before they die. No pressure, right?

But Ten's competition is Killian, the boy she can't forget—the one who gave up everything for her happiness. He has only one shot at redemption: beating Ten at a game she's never even played. As their throw-downs heat up, so do their undeniable feelings, and soon, Ten will have to make another choice. Love…or victory.
It's been a while since I read the first book in this series and I had to look up a quick run down of what happened. I remembered liking the book, but that is all I remembered. I really wish I would have re-read the first book. I felt a little disconnected in this book. It was still good. I really enjoyed some of the things that happened, I just wasn't as connected as I wanted to be. This one just fell a little flat for me. Still enjoyed it, but it was missing something that I remember from the first book.
Ten has finally descended into her second life with the Troika. All is not well though. Killian is a Myriad. The boy she loves. The other boy that is also special to her, has entered into his final rest. There is a war brewing and it's awfully close to exploding. She must do what she can to make peace.... she needs there to be peace of some kind, she needs to be with Killian. First step is to keep Myriads away from a couple of humans that are not yet signed. They are very important to the cause.
So what I liked about this book. I enjoyed taking a closer look at Troika's realm and some of the characters that came along with it. I enjoyed the family aspect, Ten finally has some family to spend time with. I enjoyed the court aspect of the book. I enjoyed the stolen moments with Killian and Ten. I enjoyed never knowing what Killian was up to. There were quite a few surprises that I wasn't expecting.
What I didn't like about the read. I felt a disconnect to the characters. I felt there wasn't enough there for the romance. I feel Ten and Killian are never going to be together and this is just annoying. There is too much bad and not enough good. No happy times. I need some happy times. I felt annoyed with all the back and forth with the emails at the beginning of chapters. I felt some of the time the story was a bit confusing. The characters were a love hate relationship.
I really enjoyed Killian most of the time and I did like some of the Troikans. But Ten. There were times I liked her and she seemed selfless and loyal. Then other times she seemed so immature, whiny, and just annoying. SO it was hard for me to get on board with her. I think between the feels of the main characters and the lack of enough romance, I just couldn't connect.
Again, I wanted to like this book more than I did. I remember really liking the first book. But then again I don't remember a ton from the first book. Maybe it had some really good moments among some okay. This book did that too but not enough really good moments to make me love the book.
I actually struggled with the rating for this book. This is the time I wish I did half ratings. I will read the last book to finish out the series and see what happens, I am in a hurry to get it over with but not in a hurry to read the book.I am conflicted.
Didn't love it but didn't hate it. Really it would be a 2.5 but I don't have half ratings.


Gena Showalter is the New York Times and USA Today bestselling author of over thirty books in paranormal and contemporary romances, as well as young adult novels. Her series include White Rabbit Chronicles, Angels of the Dark, Otherworld Assassins, Lords of the Underworld, Alien Huntress and Intertwined.

Her novels have appeared in Cosmopolitan Magazine, and Seventeen Magazine, and have been translated all over the world. The critics have called her books "sizzling page-turners" and "utterly spellbinding stories", while Showalter herself has been called "a star on the rise".