Board Game Break Time is a new feature we're bringing in, where we play board games and review them.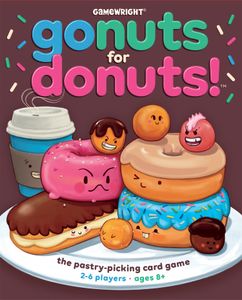 Title: Go Nuts for Donuts
Manufacturer: Gamewright
Release Date: 2017
Game Type: Card
# of Players: 2-6. Best with 2
Ages: 8+
Play Time: 20 Minutes


This is an amazing game. It's really fun and a really quick and easy to learn game. I have played with anywhere from 2-5 players and it's definitely better with just 2. If more than one person picks the same card it gets discarded. So it can take a while to get through.
Finn did try to help me pick which cards I wanted, but he just went by how cute the cards were. So maybe don't play with a 5 year old.
It is similar to the playing style of Sushi Go, but different enough that I suggest buying both.
Overall :
Learn-ability:
Game-play:
Length of play:
Artwork:
Theme:
Fun: