It's Graphic Time is a feature where we review graphic novels and comic books.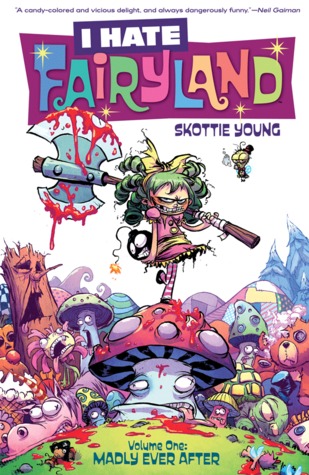 Title: Madly Ever After
Publishing Date: April 20th, 2016
Pages: 128
Audio Length: N/A
Genre: Fantasy Graphic Novel
TW: Violence, gore

From superstar writer and artist Skottie Young (Rocket Raccoon, Wizard of OZ, Fortunately, The Milk), comes the first volume of an all-new series of adventure and mayhem.
An Adventure Time/Alice in Wonderland-style epic that smashes its cute little face against grown-up, Tank Girl/Deadpool-esque violent madness. Follow Gert, a forty year old woman stuck in a six year old's body who has been trapped in the magical world of Fairyland for nearly thirty years. Join her and her giant battle-axe on a delightfully blood-soaked journey to see who will survive the girl who HATES FAIRYLAND.
Collecting: I Hate Fairyland 1-5
What made me pick this book up:
The cover most definitely.
What did I like about the cover:
I love the brightness and the happiness of it. I love the unicorns and rainbows. And how everything looks absolutely terrified.
What made me read this book:
It looked funny and I love anything about fairyland.
What did I like the most:
This book did have some funny parts in it. I felt myself giggling quite a bit, especially when she was "cussing". She never actually cussed but said really funny words. I can't remember what it was now... but it was funny!
I also really loved the artwork, which I will be talking about down below.
Also. The zombie fauns. Faun of the dead. That was literally the best part of the entire book.
There was a lot I didn't like. I expected this to be violent, but man oh man. It was disturbing. I felt like the story just wasn't going anywhere, and the main character WAS SO FRICKIN ANNOYING. I cannot read another book with her in it. It was the type of annoying that made me want to rip my hair out.
I'm actually super disappointed in this book. I was so excited for it and it was just... not so great. Not my type of book at all.
Would I read the rest of the series/more from this author?
No. Maybe more from the same author. But I will NOT be reading anymore I hate Fairyland.
The artwork for this is absolutely adorable. I love the bright colors, and how cute everything is. It's bright and colorful. It's the best thing about the book.
Like I said, the main character is absolutely annoying. They all are really. The best character is her little fly guide guy. And even he is annoying.
Just doesn't feel like this book is going anywhere. I just didn't care for it.
I feel like the story for this is decent. It has potential. It could be so much more.
This book was not at all what I was hoping it would be.
What made me pick this book up:
I thought it was a nice twist to fairyland type of stories. And Ash wanted me to check it out.
What did I like about the cover:
I liked the artwork, it was gruesome yet happy and it made me smile.
What made me read this book:
Ash said that it seemed like something I would like.

*I did not! I said it was a weird book and he picked it up himself because I kept talking about how weird and how much I really did not like it.*
What did I like the most:
I like that it was your typical "lala happy story and happy ending," because the MC killed everything. She literally blew the moon up and killed all the stars. Not that that's what I liked the most, just that's what made it not typical

I don't think I really have a favorite part per say. The entire book was just a mash up of bright colors and violence. I liked that it wasn't just a fairytale book, but that it still had that element in it.
It seemed like it was trying too hard to involve as much killing as possible. Like I said above they killed the moon and the stars. Along with just about everything else that they came into contact with.

It felt like it was just too much, like they had to put death and blood and gore on every page.
Would I read the rest of the series/more from this author?
No, I read this one to give it a try but it honestly was not my type of reading material
It was very well drawn and put together. The colors and the creatures all worked well together.
They were very unique in their own way. Every character had personality.
I felt like there was some unnecessary parts, like they needed fillers. Such as with the killing. It took a while to get to the end of where they needed to be.
Like I said, it was a unique story, it wasn't typical of being fairytale.
Great art, but not the book for me.

Skottie Young has been an illustrator and cartoonist for over ten years working for entertainment and publishing companies such Marvel, Warner Bros., Image, Upper Deck, Mattel, and many more.

He is currently illustrating the New York Times Best Selling and Eisner Award Nominated adaptions of L. Frank Baum's OZ novels with writer Eric Shanower. The series has gained acclaim from both fans and critics.


Skottie currently lives in Illinois with his family, Casey, Baxter and their Saint Bernard, Emma.