sentences out of our current read to pique others' curiosity.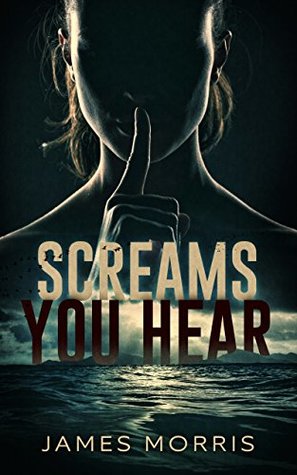 Screams You Hear by James Morris
Murder and madness infect a small town

For sixteen-year-old Ruthie Stroud, life on tiny Hemlock Island in the Pacific Northwest is an endless sea of boring green, in a place where everybody knows everybody's business and nothing ever happens. Then her world is ripped apart when her parents divorce and a new man enters her mother's life. But worse is yet to come.

When she drifts ashore on the mainland, hideously burned, Ruthie has a harrowing tale to tell. It begins with the murder of a family. It ends with her being the sole survivor of a cataclysm that sweeps her little island. As a detective attempts to unravel Ruthie's story of murder and madness, only one horrifying conclusion can be drawn: whatever was isolated on remote Hemlock Island may now have come to the mainland. Is Ruthie safe? Is anyone?
No matter where I touch, my skin isn't soft; it's leather, a mask that rests too tightly against my skull. It's like my skin is both expanding and contracting, pushing and pulling.


Jenn's:
Since that first bus ride to Camp Chinooka twenty long years ago, Gigi Goldstein has been pining for her best friend's guy. She knows her crush is wrong and has to stop, but her heart won't listen to reason. To escape the agony of their impending wedding, Gigi accepts a summer job at the only place she's ever been happy.

But working at Chinooka isn't all campfire songs and toasting marshmallows. Gigi's girls are determined to make her look bad in front of the boys' Head Counselor—the sexy but infuriating Perry—and every inch of the campground is laced with memories.

When Gigi realizes she can't fix the present by hiding in the past, she's forced to reexamine her choices. Maybe everything she thought she wanted wasn't what she actually needed... But if she can get her act together, Gigi might have one last shot at the summer love of her dreams.
"Joshua, I've loved you ever since I was that homesick little girl whose hand you held all the way to Camp Chinooka. I know it sounds crazy, but even with all of our secrets, I've loved you more honestly than anyone in my life."