This feature I will just gab, remark, feature book covers.
For this cover up I will be comparing two different editions of the same book, from books I've read recently. I will try to do this every couple weeks or so. Can be from a different country, or just a different edition in general
In this stunning bridge book between Cress and Winter in the bestselling Lunar Chronicles, Queen Levana's story is finally told.

Mirror, mirror on the wall,

Who is the fairest of them all?

Fans of the Lunar Chronicles know Queen Levana as a ruler who uses her "glamour" to gain power. But long before she crossed paths with Cinder, Scarlet, and Cress, Levana lived a very different story – a story that has never been told . . . until now.




Marissa Meyer spins yet another unforgettable tale about love and war, deceit and death. This extraordinary book includes full-color art and an excerpt from Winter, the next book in the Lunar Chronicles series.
Ame
rican Cover French Cover
French one wins, hands down. Look how pretty!
Princess Winter is admired by the Lunar people for her grace and kindness, and despite the scars that mark her face, her beauty is said to be even more breathtaking than that of her stepmother, Queen Levana.

Winter despises her stepmother, and knows Levana won't approve of her feelings for her childhood friend--the handsome palace guard, Jacin. But Winter isn't as weak as Levana believes her to be and she's been undermining her stepmother's wishes for years. Together with the cyborg mechanic, Cinder, and her allies, Winter might even have the power to launch a revolution and win a war that's been raging for far too long.

Can Cinder, Scarlet, Cress, and Winter defeat Levana and find their happily ever afters? Fans will not want to miss this thrilling conclusion to Marissa Meyer's national bestselling Lunar Chronicles series.
Am
erican Cover Czech Cover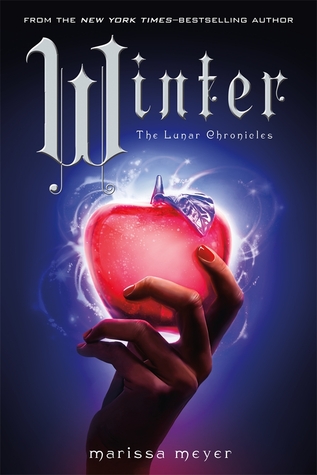 Look at that cover for Winter! Oh my gosh. Besides that that person looks nothing like Winter, this cover is amazing. It's so pretty!
The Breakfast Club meets Pretty Little Liars, One of Us Is Lying is the story of what happens when five strangers walk into detention and only four walk out alive. Everyone is a suspect, and everyone has something to hide.




Pay close attention and you might solve this.

On Monday afternoon, five students at Bayview High walk into detention.

Bronwyn, the brain, is Yale-bound and never breaks a rule.

Addy, the beauty, is the picture-perfect homecoming princess.

Nate, the criminal, is already on probation for dealing.

Cooper, the athlete, is the all-star baseball pitcher.

And Simon, the outcast, is the creator of Bayview High's notorious gossip app.

Only, Simon never makes it out of that classroom. Before the end of detention, Simon's dead. And according to investigators, his death wasn't an accident. On Monday, he died. But on Tuesday, he'd planned to post juicy reveals about all four of his high-profile classmates, which makes all four of them suspects in his murder. Or are they the perfect patsies for a killer who's still on the loose?

Everyone has secrets, right? What really matters is how far you would go to protect them."
Amer
i
can Cover German Cover
I love the German cover! But I also love the American one. They're both good.
Twelve-year-old Jonas lives in a seemingly ideal world. Not until he is given his life assignment as the Receiver does he begin to understand the dark secrets behind this fragile community.
American Cover Spanish Cover
I absolutely love the Spanish cover for this. The color pop is beautiful.
From debut author Cassie Alexander comes a spectacular new urban fantasy series where working the nightshift can be a real nightmare.

Nursing school prepared Edie Spence for a lot of things. Burn victims? No problem. Severed limbs? Piece of cake. Vampires? No way in hell. But as the newest nurse on Y4, the secret ward hidden in the bowels of County Hospital, Edie has her hands full with every paranormal patient you can imagine—from vamps and were-things to zombies and beyond...

Edie's just trying to learn the ropes so she can get through her latest shift unscathed. But when a vampire servant turns to dust under her watch, all hell breaks loose. Now she's haunted by the man's dying words—Save Anna—and before she knows it, she's on a mission to rescue some poor girl from the undead. Which involves crashing a vampire den, falling for a zombie, and fighting for her soul. Grey's Anatomy was never like this ...
Am
eri
c
an Cover Czech Cover
I... Don't like either of these covers to be honest.