Delightful Discoveries are not yet or newly published books that we have discovered recently.
In their world, telling the truth has become the most dangerous crime of all.

In the near-future United States, a one-child policy is ruthlessly enforced. Everyone follows the Rule of One. But Ava Goodwin, daughter of the head of the Texas Family Planning Division, has a secret—one her mother died to keep and her father has helped to hide for her entire life.

She has an identical twin sister, Mira.

For eighteen years Ava and Mira have lived as one, trading places day after day, maintaining an interchangeable existence down to the most telling detail. But when their charade is exposed, their worst nightmare begins. Now they must leave behind the father they love and fight for their lives.

Branded as traitors, hunted as fugitives, and pushed to discover just how far they'll go in order to stay alive, Ava and Mira rush headlong into a terrifying unknown.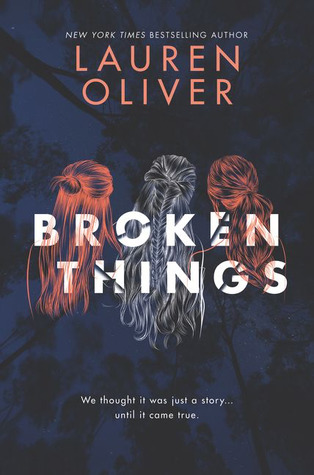 Broken Things by Lauren Oliver
It's been five years since Summer Marks was brutally murdered in the woods.

Everyone thinks Mia and Brynn killed their best friend. That driven by their obsession with a novel called The Way into Lovelorn the three girls had imagined themselves into the magical world where their fantasies became twisted, even deadly.

The only thing is: they didn't do it.

On the anniversary of Summer's death, a seemingly insignificant discovery resurrects the mystery and pulls Mia and Brynn back together once again. But as the lines begin to blur between past and present and fiction and reality, the girls must confront what really happened in the woods all those years ago—no matter how monstrous.

With all the intensity and whiplash turns of Gone Girl and One of Us Is Lying, this engrossing psychological thriller by New York Times bestselling author Lauren Oliver is an unforgettable, mesmerizing tale of exquisite obsession, spoiled innocence, and impossible friendships.
In this romantic road trip story perfect for fans of Sarah Dessen and Morgan Matson, a teen girl discovers the value of ordinary objects while learning to forgive her absent father.

After Ali's father passes away, he leaves his one and only prized possession—a 1968 Firebird convertible—to his daughter. But Ali doesn't plan on keeping it. Not when it reminds her too much of all her father's unfulfilled promises. So when she finds a buyer three hundred miles up the Pacific coast willing to pay enough money for the car to save her childhood home, Ali can't wait to get going. Except Ali has no idea how to drive a stick shift. But guess who does?

Ali's ex-boyfriend, Nico. And Nico has other plans.

He persuades Ali that instead of selling the car, they should "trade up" the items they collect on their trip to eventually reach the monetary amount Ali needs. Agreeing with Nico's crazy plan, Ali sets off on a unique adventure that is unlike anything she ever could have expected.

And it's through Ali's travels, through the strangers she meets and the things that they value—and why they value them—that Ali eventually comes to understand her father and how his life may not have been as easy and carefree as she previously thought. Because just like the seemingly insignificant objects Ali collects, not everything is exactly as it appears.
Seventeen-year-old Rachel Ferguson is trying to get struck by lightning. Hopefully it will lead to finding her soul mate, like it did for her mother. And then maybe her mom will be as devoted to her as she is to her lightning strike survivors group.

When Rachel discovers a journal written by her mother's soul mate - the man she thought was her father - she begins to question everything she's always believed, including soul mates, fate, and even her mother. No longer sure of its power, she decides to quit chasing lightning.

Rachel feels abandoned and alone. Her best friend has ditched her, her boyfriend has dumped her, and a confrontation with her mom only made things worse. At least she still has her friend Jay. In fact, their growing attraction to each other seems to be the only good thing happening.

But when her relationship with Jay starts to unravel, too, the impulse to get struck by lightning resurfaces.

And there's a thunderstorm coming.

Set in a small Cape Cod beach town in the off-season, Soulstruckis about the search for love and the risk of losing it while waiting for destiny to happen



For the past eight years, sixteen-year-old Emilia DeJesus has done her best to move on from the traumatic attack she suffered in the woods behind her elementary school. She's forced down the memories--the feeling of the twigs cracking beneath her, choking on her own blood, unable to scream. Most of all, she's tried to forget about Jeremy Lance, the boy responsible, the boy who caused her such pain. Emilia believes that the crows who watched over her that day, who helped her survive, are still on her side, encouraging her to live fully. And with the love and support of her mother, brother, and her caring boyfriend, Emilia is doing just that.

But when a startling discovery about her attacker's identity comes to light, and the memories of that day break through the mental box in which she'd shut them away, Emilia is forced to confront her new reality and make sense of shifting truths about her past, her family, and herself.
My husband did not mean to kill Annie Doyle, but the lying tramp deserved it.

On the surface, Lydia Fitzsimons has the perfect life—wife of a respected, successful judge, mother to a beloved son, mistress of a beautiful house in Dublin. That beautiful house, however, holds a secret. And when Lydia's son, Laurence, discovers its secret, wheels are set in motion that lead to an increasingly claustrophobic and devastatingly dark climax.