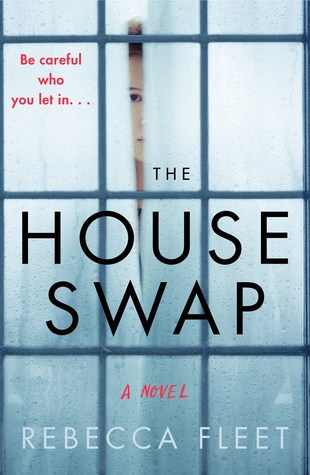 Title: The House Swap
Author: Rebecca Fleet
Publisher: Pamela Dorman Books
Publishing Date: May 22nd, 2018
Pages: 320
Genre: Adult Noir, Thriller/Suspense
Series: Stand Alone
Source: Audio



Be careful who you let in . . .




When Caroline and Francis receive an offer to house swap--from their city flat to a townhouse in a leafy, upscale London suburb--they jump at the chance for a week away from home, their son, and the tensions that have pushed their marriage to the brink.




As the couple settles in, the old problems that permeate their marriage--his unhealthy behaviors, her indiscretions--start bubbling to the surface. But while they attempt to mend their relationship, their neighbor, an intense young woman, is showing a little too much interest in their activities.




Meanwhile, Caroline slowly begins to uncover some signs of life in the stark house--signs of her life. The flowers in the bathroom or the music might seem innocent to anyone else--but to her they are clues. It seems the person they have swapped with is someone who knows her, someone who knows the secrets she's desperate to forget...
I am really enjoying the genre Noir lately. I have read some good ones and this one is no exception. I absolutely loved this book. This book was exactly what I was in the mood for, suspense, psychological, and so creepy at times. I loved the story, the characters, and the writing. It was just so so good. This is a debut book for this author and I can't wait to read more from her in the future. So good guys.
Caroline and Francis decide to take a little vacation, to save some money the do a house swap. That's not creepy and invading at all. Their marriage has been on the rocks and they need some time together away from their child, stress of life, and jobs. These two have some sins in their past and the sins of Caroline come to haunt her while she is in this stranger's house. The house they are staying at is pretty empty and cold, the only things around the house are items that are reminders of the affair Caroline had some time back. She is starting to question whose house she is staying at and who is currently in her house. Even strange yet is the really nice neighbor lady that is all up in Caroline's business. It all seems to come together in the end and it doesn't look good for Caroline.
I really love Noir books. I love the victim not really being the nicest person, I enjoy watching lines of morality being crossed for the right reasons. I think I like it because we all mess up and this genre really shows that there isn't a clear division between good and evil. We all have done bad things, we have all been good people. This genre explores all of that. This book completely fits into this genre.
Caroline has made some bad decisions in her life. I mean so really messed up choices. She has had to pay consequences in her own way but the choices she made is coming back to haunt her. This story is told in dual timelines and the story of her affair unfolds in the past timeline and the future timeline explores the situation she is currently in.... the creepy house.
I felt bad for Caroline in the present. She knows what she did wrong and she lives with it every day. In the past, I hate the Caroline for her choices...even though I understand why she felt the need to make the choices she made, I still didn't like it. What I love about the dual timelines is the ability to really connect with the characters and to enjoy the mystery of what happened. Even though I didn't agree with her choices, I felt she was deep down a decent person who wanted her family to work, she loved her son and her husband, but she felt trapped and she found a way to deal with her current situation. I felt she was real. She was normal. She was just like everyone else. I really connected with her.
The other characters, I didn't really connect as much too. I felt this was more Carolines story. I could feel for the other characters involved in her life. I was angry, sad, excited, I felt the struggles and the celebrations of the other characters, I just didn't feel for them the way I did Caroline. This didn't take away from the story, I think it helped to see the story in a clearer vision. It was all about Caroline.
In this genre, it's really not about the story as much as the main character. So the story wasn't anything exception... The affair, damaged people, creepy things happening, twists and turns, the normal. I did really enjoy how the house swap fit into everything. That was very well done and creepy as all get out. I would never do a house swap to begin with, now for sure NEVER!
So yea the story was great, the writing was so good, the characters were well done. It all just flowed and ebbed in the right way.
So loved this book. CREEPY as HELL!


Rebecca Fleet's brilliant page-turner The House Swap was pre-empted by Transworld for publication in May 2018 and has sold in 16 territories. The novel combines psychological suspense with domestic drama. When a young couple organises a house swap to have a break away – a first step towards rebuilding their faltering marriage – the wife slowly begins to realise from clues left in the house that the person staying back in their home is someone she used to know and, for reasons that gradually become clear, was very much hoping to forget. Rebecca had two literary novels published by 4th Estate under a different name.