sentences out of our current read to peak others' curiosity.
Your One and Only by Adrienne Finlay

Jack is a walking fossil. The only human among a sea of clones. It's been hundreds of years since humanity died off in the slow plague, leaving the clones behind to carry on human existence. Over time they've perfected their genes, moving further away from the imperfections of humanity. But if they really are perfect, why did they create Jack?
While Jack longs for acceptance, Althea-310 struggles with the feeling that she's different from her sisters. Her fascination with Jack doesn't help. As Althea and Jack's connection grows stronger, so does the threat to their lives. What will happen if they do the unthinkable and fall in love?
Teaser:
"His eyes glanced from student to student, quick and nervous. He looked like he might be somewhat intelligent, but it was hard to tell. Even if he is, she thought, he's still so strange. He's not one of us, not at all. He was like no one else."
Ash's Thoughts:
This book is kinda interesting, I haven't gotten very far, but from what I have read it's.. interesting. I guess we'll see how it goes.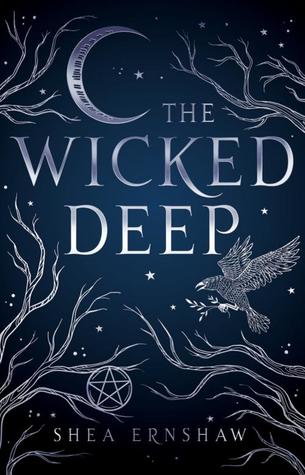 The Wicked Deep by Shea Ernshaw


Hocus Pocus and Practical Magic meets the Salem Witch trials in this haunting story about three sisters on a quest for revenge—and how love may be the only thing powerful enough to stop them.

Welcome to the cursed town of Sparrow…

Where, two centuries ago, three sisters were sentenced to death for witchery. Stones were tied to their ankles and they were drowned in the deep waters surrounding the town.

Now, for a brief time each summer, the sisters return, stealing the bodies of three weak-hearted girls so that they may seek their revenge, luring boys into the harbor and pulling them under.

Like many locals, seventeen-year-old Penny Talbot has accepted the fate of the town. But this year, on the eve of the sisters' return, a boy named Bo Carter arrives; unaware of the danger he has just stumbled into.

Mistrust and lies spread quickly through the salty, rain-soaked streets. The townspeople turn against one another. Penny and Bo suspect each other of hiding secrets. And death comes swiftly to those who cannot resist the call of the sisters.

But only Penny sees what others cannot. And she will be forced to choose: save Bo, or save herself.



Watching Olivia run her fingers up his throat, touching the hard line of his jaw, a sickening lump of dread wretched up from my stomach.
I am really really enjoying this book. It's eerie and creepy and a little twisted. It's gonna be a really good read. about halfway done and can't wait to finish.