sentences out of our current read to peak others' curiosity.

It's a beautiful, sunny day. Callie Velasquez holds hands with her boyfriend Jeremy as they follow Callie's new BFFs Penelope and Lissa up the trail. The four friends are embarking on a camping trip -- a trip that immediately goes awry. They lose their way on the trail, and encounter a charismatic stranger with questionable motives. And when Callie stumbles upon a dead body, it becomes clear that the danger that lies in the woods is deadlier than she could have ever imagined. Tensions mount and friendships are tested as these teenagers try to survive the most sinister of circumstances.
Teaser:
"The blood had shimmered in the beam of his flashlight, wet and sticky. There was no way it had been there forever. That blood was still fresh."
Ash's Thoughts:
This has been on Jenn's TBR for a while. I remember taking pictures of it a few years ago, for a challenge during Dewey's 24-hour readathon. I had raided Jenn's bookshelves and grabbed it and decided it was time to read it.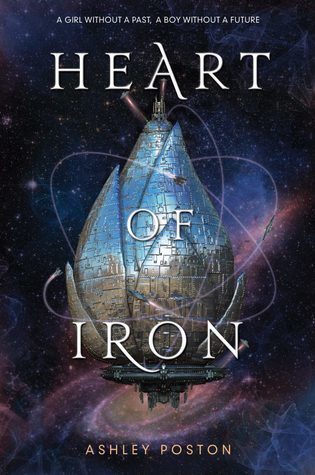 Seventeen-year-old Ana is a scoundrel by nurture and an outlaw by nature. Found as a child drifting through space with a sentient android called D09, Ana was saved by a fearsome space captain and the grizzled crew she now calls family. But D09—one of the last remaining illegal Metals—has been glitching, and Ana will stop at nothing to find a way to fix him.

Ana's desperate effort to save D09 leads her on a quest to steal the coordinates to a lost ship that could offer all the answers. But at the last moment, a spoiled Ironblood boy beats Ana to her prize. He has his own reasons for taking the coordinates, and he doesn't care what he'll sacrifice to keep them.

When everything goes wrong, she and the Ironblood end up as fugitives on the run. Now their entire kingdom is after them—and the coordinates—and not everyone wants them captured alive.

What they find in a lost corner of the universe will change all their lives—and unearth dangerous secrets. But when a darkness from Ana's past returns, she must face an impossible choice: does she protect a kingdom that wants her dead or save the Metal boy she loves?


"I dont think it's the glitches doing that." She stood and kissed him on his metallic forehead, leaving a bloodred lipstick print, and retired back to her seat.
I am having a bit of time really getting into this read. I am at about 30 percent done, and I just can't get connected. I will try for a bit longer and see how it goes.