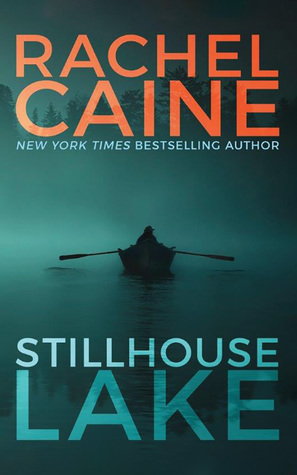 Title: Stillhouse Lake




Author:

Rachel Caine
Publisher:

Thomas & Mercer
Pages: 302
Genre: Suspense Thriller
Series:

Stillhouse Lake #1
Source: Audio

Gina Royal is the definition of average—a shy Midwestern housewife with a happy marriage and two adorable children. But when a car accident reveals her husband's secret life as a serial killer, she must remake herself as Gwen Proctor—the ultimate warrior mom.
With her ex now in prison, Gwen has finally found refuge in a new home on remote Stillhouse Lake. Though still the target of stalkers and Internet trolls who think she had something to do with her husband's crimes, Gwen dares to think her kids can finally grow up in peace.
But just when she's starting to feel at ease in her new identity, a body turns up in the lake—and threatening letters start arriving from an all-too-familiar address. Gwen Proctor must keep friends close and enemies at bay to avoid being exposed—or watch her kids fall victim to a killer who takes pleasure in tormenting her. One thing is certain: she's learned how to fight evil. And she'll never stop.
I decided to read this book for three reasons. One Rachel Caine… love this author. Two reviews I have seen around the blogs for this book and three- it's a thriller. I was hesitant because I do not read many adult books. I did get this on audio and gave it a go and loved loved loved this book. It had everything I was looking for in a suspense thriller. It had suspense, thrills, serial killer, a strong heroine and many friends that aide her. Twists and turns and so many great moments. I loved this book.
Gina Royal is the average housewife. She takes care of her house, her husband, and her kids. Her life is pretty normal and she thinks it's a good life. That all changes the day that she comes home to find an accident at her house, revealing the horror of her husbands recreational deeds. He is a serial killer and his latest victim was found hanging in their garage. After months of court battles to deem her innocent and years of running from those who seek to find her, harm her, or just send her hate mail thinking she was an accomplish, she finds herself and her kids at Stillhouse Lake. She and her kids have made somewhat of a life. The kids go to school, are making friends, she is making friends, has an online business. Things seem to be going okay… even if she is super paranoid and sees all the hate still out there. Her life changes again when a body is found in the lake and letters from her ex are coming in the mail. Their lives are once again in danger.
My first thought reading this… serial killer and its your husband – intense. Going into the book the intensity never slowed. It started with a bang and ended with a bang. My first thought once finishing is wow I didn't know what I was missing in adult suspence thrillers and I now need more. Fortunately this has a second book. YAY.
Gina Royal or Gwen Proctor (which is her new name) is just amazing. She is strong and smart. I have mad respect for this character. She was a wife of a controlling and butt head kind of husband…. Once finding out who he really was she did a 180 on her personality and became someone so freaking terrifying when it came to protecting her children. She learned really quick what is really out there and what needs to be done and she had no problems doing what needed to be done. I really enjoyed her story and her point of view of the story.

The kids were pretty amazing too. I really liked how well but not so well they have adapted. Lanny knew a little more than Connor did due to her age and she held it together quite well. Connor seemed a little whiny but he is still young and not knowing everything still a little lost with how it all went down. One thing the kids knew, their mother loved them and was smart in keeping them safe. They did what they needed to do when they were instructed…even though they didn't always quite know why.

Same Cade was another one of my favorite characters. He was all around kind of a very cool character. The reader doesn't know much of his motives when he first meets Gwen but soon it is revealed and though they weren't the best motives he turns out to be quite a decent guy and great friend. Along with some more fascinating cast of characters this book is stock full of people to love and hate and sometimes love then hate or hate then love. I never really knew who to trust fully and that was just captivating for me.

This for sure had me reeling. I never knew what was happeinging and what was real. What to suspect and what was safe. Full of twist and turns and edge of your seat kind of moments.

I love serial killer books and this one brings a whole new level of love with the idea of the main characters ex husband being the serial killer.

In the end I loved it. Want more of this story more of this world. I Hope to see Gwen in many many more books.

Rachel Caine is a pen name of Roxanne Longstreet Conrad.
She has also published as:Roxanne LongstreetRoxanne ConradJulie FortuneIan Hammell
Her Facebook page:https://www.facebook.com/rachelcainef...