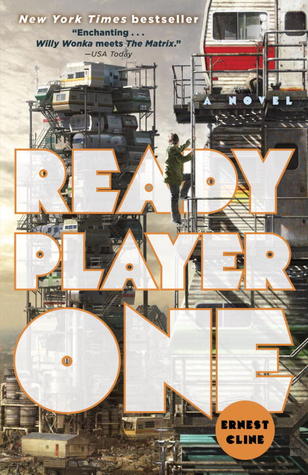 Title: Ready Player One
Publisher: Broadway Books
Publishing Date: June 5th, 2012
Genre: Young Adult Sci-Fi Dystopian
Series: Ready Player One

In the year 2044, reality is an ugly place. The only time teenage Wade Watts really feels alive is when he's jacked into the virtual utopia known as the OASIS. Wade's devoted his life to studying the puzzles hidden within this world's digital confines, puzzles that are based on their creator's obsession with the pop culture of decades past and that promise massive power and fortune to whoever can unlock them. When Wade stumbles upon the first clue, he finds himself beset by players willing to kill to take this ultimate prize. The race is on, and if Wade's going to survive, he'll have to win—and confront the real world he's always been so desperate to escape.
Ready Player One is a sci-fi book, about a teenager trying to win a billionaires inheritance. It is full of 80's pop culture references.
What made me pick this book up:
Funny story actually... A few years back, when RPO first came out, Ernest Cline was at a book fest that we went to. We bought the book for me to get signed, for my dad. Well, I was so used to just having the authors sign my name (I had already gone through like 10 authors lines) that I had him sign it in my name. Right as soon as he signed it, Jenn came up and made sure I got it in my dad's name. Well... I didn't. So Ernest Cline actually gave us a second book, for free, and signed it to my dad. Before that, I didn't really have any interest in reading this, but I figured I have a signed copy now, I better read it.


What did I like about the cover:
I like the stacks on the cover. It looks really realistic and matches the book well. I also love the lettering they chose.


What made me read this book:
I've wanted to read this since I got it signed. My husband decided to listen to it, so we got it on audio. And because the movie is coming out soon, I decided it was probably a good time.


What did I like the most:
I loved all the pop culture references. I really want to find every movie, game, book, and song mentioned in this book and check every single one out. It'll take me a while, but it's a good goal. He is my favorite character. He's funny and smartass-y. The story is also really good. And let me tell you what, what I wouldn't do to have a game like an oasis. It's like second life meets World of Warcraft. Amazing.


I feel like the book was just a little long. Everything he said, he had to go into extreme detail. Details that were just a bit unnecessary in parts. And I love details, but honestly, you could cut out 1/3 of the book, and still be an awesome book. I also really did not like Wade, the main character. He was a bit of a baby, and kind of annoying. I can't name exactly what it was I didn't like, but he just... irked me.


Would I read the rest of the series/more from this author?
Yes! I heard he's writing a sequel to RPO and I will definitely read it. I also really want to read Armada.
Overall, I really did like the book, for the most part. I don't regret reading it. Ernest Cline is a really awesome guy, and I cannot wait for the movie.
A Little Snippet:
"I created the OASIS because I never felt at home in the real world. I didn't know how to connect with the people there. I was afraid, for all of my life, right up until I knew it was ending. That was when I realized, as terrifying and painful as reality can be, it's also the only place where you can find true happiness. Because reality is real."
―

Ernest Cline

,

Ready Player One



ERNEST CLINE is a novelist, screenwriter, father, and full-time geek. His first novel, Ready Player One, was a New York Times and USA Today bestseller, appeared on numerous "best of the year" lists, and is set to be adapted into a motion picture by Warner Bros. and director Steven Spielberg. His second novel, ARMADA, debuted at #4 on the NYT Bestseller list and is being made into a film by Universal Pictures. Ernie lives in Austin, Texas, with his family, a time-traveling DeLorean, and a large collection of classic video games.