What next is a new feature where you guys get to pick our next reads. Either series or just a single book.
Jenn-


It starts with a whisper.




It's time for you to know who you are..."

Stange dreams leave her with very real injuries and there's a dark tattoo weaving its way up her arms. The guy she thought she could fall in love with just told her he's only half-human - oh, and same goes for her. And she keeps hearing a distant fluttering of wings.

Violet Eden is having a very bad 17th bithday.

But if angels seek vengeance and humans are warriors, you could do a lot worse than betting on Violet Eden.
Sixteen-year-old Maya is just an ordinary teen in an ordinary town. Sure, she doesn't know much about her background - the only thing she really has to cling to is an odd paw-print birthmark on her hip - but she never really put much thought into who her parents were or how she ended up with her adopted parents in this tiny medical-research community on Vancouver Island.




Until now.

Strange things have been happening in this claustrophobic town - from the mountain lions that have been approaching Maya to her best friend's hidden talent for "feeling" out people and situations, to the sexy new bad boy who makes Maya feel...different. Combine that with a few unexplained deaths and a mystery involving Maya's biological parents and it's easy to suspect that this town might have more than its share of skeletons in its closet.
Soul Screamers by Rachel Vincent
She doesn't see dead people. She senses when someone near her is about to die. And when that happens, a force beyond her control compels her to scream bloody murder. Literally.




Kaylee just wants to enjoy having caught the attention of the hottest guy in school. But a normal date is hard to come by when Nash seems to know more about her need to scream than she does. And when classmates start dropping dead for no apparent reason, only Kaylee knows who'll be next.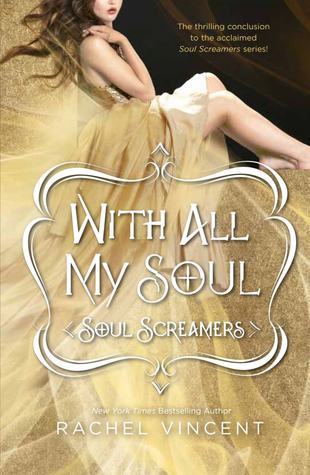 Ash-
Because these are all short (ish) series I will be ATTEMPTING to read two of these in February.
Ella is an Edwardian Cinderella with an undead problem...




The flu pandemic of 1918 took millions of souls within a few short weeks. Except it wasn't flu, and death gave them back.




Seventeen-year-old Ella copes the best she can; caring for her war-injured father, scrubbing the floors, and slaying the undead that attack the locals. Vermin they're called, like rats they spread pestilence with their bite. Ella's world collides with another when she nearly decapitates a handsome stranger, who is very much alive.




Seth deMage, the new Duke of Leithfield, has returned to his ancestral home with a mission from the War Office -- to control the plague of vermin in rural Somerset. He needs help; he just didn't expect to find it in a katana-wielding scullery maid.

Working alongside Seth blurs the line between their positions, and Ella glimpses a future she never dreamed was possible. But in overstepping society's boundaries, Ella could lose everything - home, head and her heart...
I know your secret...




Stacey's junior year at boarding school isn't easy. She's not the most popular girl at school, or the smartest, or the prettiest. She's got a crush on her best friend's boyfriend, and an even darker secret that threatens to ruin her friendships for good. And now she's having nightmares again.




Not just any nightmares – these dreams are too real to ignore, like she did three years ago. The last time she ignored them, a little girl died. This time they're about Drea, her best friend who's become the target of one seriously psycho stalker. It started with weird e-mails and freaky phone calls.




Now someone's leaving Drea white lilies – the same death lilies that have been showing up in Stacey's dreams. Everybody thinks it's just a twisted game . . . until another girl at school is brutally murdered. There are no witnesses. Worst of all, no one has a perfect alibi. With everyone as a potential suspect, Stacey turns to the one secret weapon she can trust – the folk magic taught to her by her grandmother.

Will Stacey's magic be strong enough to expose the true killer, or will the killer make her darkest nightmares come true?
It's one thing to learn to curtsy properly. It's quite another to learn to curtsy and throw a knife at the same time. Welcome to Finishing School.
Fourteen-year-old Sophronia is a great trial to her poor mother. Sophronia is more interested in dismantling clocks and climbing trees than proper manners--and the family can only hope that company never sees her atrocious curtsy. Mrs. Temminnick is desperate for her daughter to become a proper lady. So she enrolls Sophronia in Mademoiselle Geraldine's Finishing Academy for Young Ladies of Quality.
But Sophronia soon realizes the school is not quite what her mother might have hoped. At Mademoiselle Geraldine's, young ladies learn to finish...everything. Certainly, they learn the fine arts of dance, dress, and etiquette, but they also learn to deal out death, diversion, and espionage--in the politest possible ways, of course. Sophronia and her friends are in for a rousing first year's education.
In Strange Angels, Dru Anderson has what her grandmother called "the touch." (Comes in handy when you're traveling from town to town with your dad, hunting ghosts, suckers, wulfen, and the occasional zombie.) Then her dad turns up dead—but still walking—and Dru knows she's next. Even worse, she's got two guys hungry for her affections, and they're not about to let the fiercely independent Dru go it alone. Will Dru discover just how special she really is before coming face-to-fang with whatever—or whoever— is hunting her?