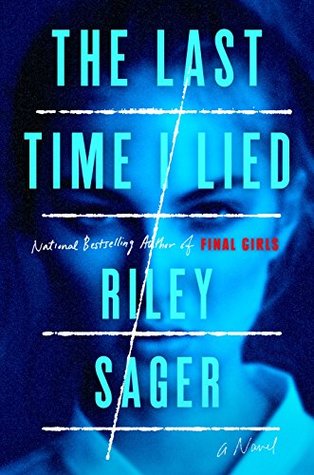 Title: The Last Time I Lied
Publishing Date: July 3rd, 2018
Pages: 384
Audio Length: 12 Hours and 13 Minutes
|
Book Depository
|
Kobo

Two Truths and a Lie. The girls played it all the time in their tiny cabin at Camp Nightingale. Vivian, Natalie, Allison, and first-time camper Emma Davis, the youngest of the group. The games ended when Emma sleepily watched the others sneak out of the cabin in the dead of night. The last she--or anyone--saw of them was Vivian closing the cabin door behind her, hushing Emma with a finger pressed to her lips.
Now a rising star in the New York art scene, Emma turns her past into paintings--massive canvases filled with dark leaves and gnarled branches that cover ghostly shapes in white dresses. The paintings catch the attention of Francesca Harris-White, the socialite and wealthy owner of Camp Nightingale. When Francesca implores her to return to the newly reopened camp as a painting instructor, Emma sees an opportunity to try to find out what really happened to her friends.
Yet it's immediately clear that all is not right at Camp Nightingale. Already haunted by memories from fifteen years ago, Emma discovers a security camera pointed directly at her cabin, mounting mistrust from Francesca and, most disturbing of all, cryptic clues Vivian left behind about the camp's twisted origins. As she digs deeper, Emma finds herself sorting through lies from the past while facing threats from both man and nature in the present.
And the closer she gets to the truth about Camp Nightingale, the more she realizes it may come at a deadly price.
What made me pick this book up:
I actually got an email about the blog tour and that's the first time I had seen the book. The cover looked great and the synopsis really caught my eye.
What did I like about the cover:
For the longest time I thought the cover had a dude on it. Nope, it's a female.
Anyway!
I love the color of the cover. Blue is one of my favorite colors, especially the blues on this cover.
And I love the lines through the face. It's a really great cover.
What made me read this book:
Well, I wanted to do the blog tour. This is my first ever blog tour and I'm super excited.
But also the synopsis sounded so good. I love me a good mystery and as soon as I read what this book was about I just had to read it to find out what had happened!
What did I like the most:
This was one of those books that from the moment I read what it was about I just HAD to know what happened. It would have driven me crazy not to find out.
So with that, I think my absolute favorite part is the mystery. The whole story is really interesting, being about a 13 year old girl, named Emma. While Emma was at summer camp three of her cabin mates just disappear. Fast forward 15 years and now she's back at the same camp, to be a counselor. The only reason Emma even goes back to the camp, is to try to find out what happened to the girls.
All Emma has been painting over and over again is the three girls, disappearing. She has to know why, mostly because she feels guilty. Guilty about what? You'll have to find out.
Yeah, I told you, it just kind of grabs you in and makes you go what why? I must know!
The writing is really well done, it flows perfectly. One thing I have a problem with adult books is the pacing, but I can get to that in the what don't I like section.
This is the type of book that even if it is a bit slow, it really plays with your mind without you even realizing it is. I know once I started this book I became obsessed, just NEEDING to know.
I loved how the author described the area too. At times it felt like I was actually at the lake. Or I was actually looking at what the main character was looking at. I felt like he really knew how to describe the environment.
The characters are okay. The main character obviously has a lot of issues, but you'll learn why. And it just makes her much more bearable and it actually begins to make sense.
The other characters I had a bit of a hard time keeping up with who was who at times. But I feel like I have that issue a lot with audio. When I read the names it keeps in my head better.
Another thing I really liked is with the mystery it had it branching off into so many different things you had no idea what was real and what to believe.
Oh my God and that ending! I swear I stopped what I was doing, I completely froze and just sat there listening.
Like I was saying with the pacing, I like books that are constantly going and for adult books they have so much more build up. It's not anything the author did wrong, or anything I didn't like for this particular book, but it's something I've always had an issue with.
The other thing I didn't like, was that I really really really did not like Vivian. I know that was probably intentional, because she was supposed to be this stuck up bitchy character.
But at the same time… I feel like when she went missing it was just kind of meh. Like I almost think it would have made more of an impact if she was actually really nice.
I don't know, I guess she wasn't awful, but at the same time it feels… typical. Like she's a bad girl who goes missing.
Would I read the rest of the series/more from this author?
Most definitely! I can't wait to read Final Girls!
A great book with a great mystery! I just had to know what happened!
"Everything is a game, Em. Whether you know it or not. Which means that sometimes a lie is more than just a lie. Sometimes it's the only way to win."
―
Riley Sager
,
The Last Time I Lied

Riley Sager is the pseudonym of a former journalist, editor and graphic designer who previously published mysteries under his real name.
Now a full-time author, Riley's first thriller, FINAL GIRLS, became a national and international bestseller and was called "the first great thriller of 2017" by Stephen King. Translation rights have been sold in more than two dozen countries and a film version is being developed by Universal Pictures.
Riley's next book, THE LAST TIME I LIED, will be published in July. It was inspired by the classic novel and film "Picnic at Hanging Rock" and one horrible week Riley spent at summer camp when he was ten.

A native of Pennsylvania, Riley now lives in Princeton, New Jersey. When he's not working on his next novel, he enjoys reading, cooking and going to the movies as much as possible. His favorite film is "Rear Window." Or maybe "Jaws." But probably, if he's being honest, "Mary Poppins."
Website: www.rileysagerbooks.com | Facebook: www.facebook.com/rileysagerbooks | Twitter: @Riley_Sager
Follow the tour!
Each blog is giving away a copy of THE LAST TIME I LIED by Riley Sager
That's 20 books you have the chance of winning!
Stop by each blog on their tour date to enter
US/Canada Only
You may only win 1 book during the entire tour-- if you are chosen as a winner more than once, we ask that you decline the 2nd offer as to let someone else win.
You will be disqualified completely if your name is on the winner's list more than once.