Board Game Break Time is a new feature we're bringing in, where we play board games and review them.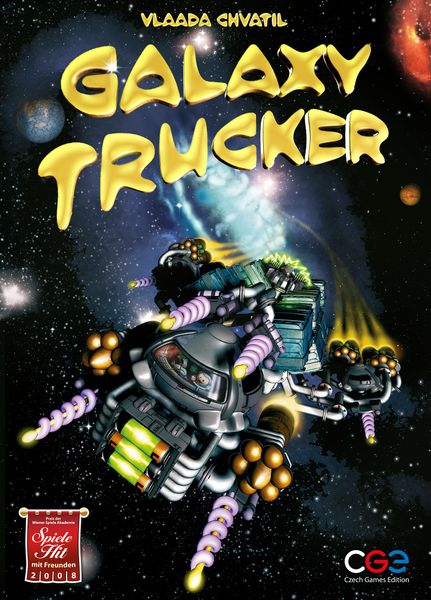 Title: Galaxy Trucker
Manufacturer:
Czech Games
Designer:
Vlaada Chvátil
Year of Publication:
2007
Game Type: Dice Rolling/Tile Placement/ Real Time/ Space Exploration Theme
# of Players: 2-4 Best: 4
Ages: 10+
Play Time: 60 Minutes


Average Rating: 7.4


I had a ton of fun with this game. Game-play starts with building your spaceship. This happens in real time. So all players are just grabbing one tile at a time and deciding to keep or toss. There is a balance between making sure you get all that you need and also finishing first... as the first player to finish is the first one to play a turn. After you build your ship you fly through space to deliver items.... problem is there are lots of dangers in space that want to tear your ship up. So yup by the time you make it to your destination... you may not have a ship left.

The components in this game are really nice. All great quality, very colorful, and unique. Very nice, this entire game is very aesthetically pleasing.

This game really was a blast. We only played a two player game and it was fun...more will be so much more fun I think. I hope to get to play with a full 4 players soon.

This is easily one of my favorites in a while.
Overall:
Learn-ability:
Game-play:
Length of play:
Artwork:
Theme:
Fun:
What Michael Thought:
I really enjoyed the different aspects of this game. It starts with tiles as you slowly build your spaceship. And you have to think ahead based off what you may encounter in space. There is also dice rolling which can affect where you might get hit. The better you build your spaceship, the more likely you will end up making it with your cargo in one piece. Though, one bad meteor could wipe out part of your ship or kill one of your humans/aliens. It's a well designed game with lots of replayability due to design aspects of ship and different cards or problems you may encounter during your flight stage to get your cargo to its destination.
Overall :
Learn-ability:
Game-play:
Length of play:
Artwork:
Theme:
Fun: