Waiting On Wednesday is a weekly event, hosted by Breaking the Spine, that spotlights upcoming releases that we're eagerly anticipating.
Jenn's Pick: I Can't wait to have my hands on this!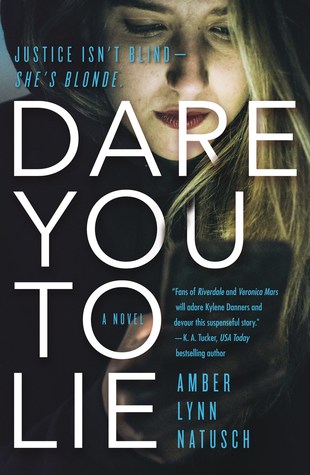 Dare You To Lie by Amber Lynn Natusch
September 4th, 2018

When her FBI agent father is framed for murder, Kylene is forced to move in with her grandfather, back to the small town that turned its back on her, and the boy who betrayed her.
All Ky cares about is clearing her father's name, but someone won't let her forget the photo scandal that drove her away two years ago. As the threats gain momentum, Ky finds an unlikely ally in the rookie FBI agent sent to keep an eye on her.
Determined to expose the town's hidden skeletons, Ky unwittingly thrusts herself into a much bigger plot. They thought she'd forgive and forget. They're about to learn they messed with the wrong girl.
Ash's Pick: I need to read this NOW!


No one should ever go into the woods alone.

Brielle has grown up listening to tales of a beast that attacks humans, leaving behind only a scattering of bones and limbs. It's probably the elders' way of keeping little children in line, but it doesn't explain her grisly premonitions of blood, claws, and severed heads.

But when Brielle finds a mangled body in the woods, she begins to wonder if the grim stories may actually be true. Soon, Lord Kenrick, Knight of the Crowhurst Order, arrives asking questions about the legendary monster. Brielle's attraction to him is immediate and undeniable. She volunteers to help him search for clues to the creature's existence, despite her suspicions about his timing.

As her seventeenth birthday approaches, Brielle's nightmares worsen and more villagers go missing. If Brielle doesn't figure out the connection between Kenrick, the beast, and her visions, more people will die. As Brielle falls deeper in love with Kenrick and deeper into the snares of the abominable beast, she'll become part of a legend so great, no one will ever question its validity again..