This feature I will just gab, remark, feature book covers.
For this cover up I will be comparing two different editions of the same book, from books I've read recently. I will try to do this every couple weeks or so. Can be from a different country, or just a different edition in general
Here's what Sam knows: There was a party. There was a fight. The next morning, Sam's best friend, Hayden, was dead. All he left Sam was a playlist of songs—and a note, saying that he took his own life. But what Sam doesn't know is: Why?

To figure out what happened, Sam has to rely on the playlist and his own memory. But the more he listens, the more he realizes that his memory isn't as reliable as he thought. Especially when someone claiming to be Hayden starts sending him cryptic messages, and a series of violent attacks begins on the bullies who made Hayden's life hell.

Sam knows he has to face up to what happened the night. But it's only by taking out his earbuds and opening his eyes to the people around him—including an eccentric, unpredictable girl who's got secrets, too—that Sam will finally be able to piece together his best friend's story.

And maybe have a chance to change his own.
Am
e
rican Cover Other American Cover
I love the first cover so much. Not so big on the second cover.
Anda loves Coarsegold Online, the massively-multiplayer role-playing game where she spends most of her free time. It's a place where she can be a leader, a fighter, a hero. It's a place where she can meet people from all over the world, and make friends.




But things become a lot more complicated when Anda befriends a gold farmer--a poor Chinese kid whose avatar in the game illegally collects valuable objects and then sells them to players from developed countries with money to burn. This behavior is strictly against the rules in Coarsegold, but Anda soon comes to realize that questions of right and wrong are a lot less straightforward when a real person's real livelihood is at stake.




From acclaimed teen author (Little Brother, For the Win) and Boing Boing editor Cory Doctorow and Koko Be Good creator Jen Wang, In Real Life is a perceptive and high-stakes look at adolescence, gaming, poverty, and culture clash.
Am
erican Cover Italian Cover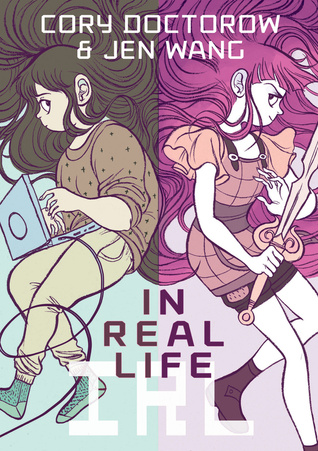 I love both of these covers so much! I can't pick one.
Although I had never seen him before, I recognized him immediately. I'd have known his voice anywhere. This was the guy I'd seen on my last journey back in time.

Or more precisely, the one who'd kissed my doppelganger while I was hiding behind the curtain in disbelief.

Sixteen-year-old Gwen lives with her extended - and rather eccentric - family in an exclusive London neighborhood. In spite of her ancestors' peculiar history, she's had a relatively normal life so far. The time-traveling gene that runs like a secret thread through the female half of the family is supposed to have skipped over Gwen, so she hasn't been introduced to "the mysteries," and can spend her time hanging out with her best friend, Lesly. It comes as an unwelcome surprise when she starts taking sudden, uncontrolled leaps into the past.

She's totally unprepared for time travel, not to mention all that comes with it: fancy clothes, archaic manners, a mysterious secret society, and Gideon, her time-traveling counterpart. He's obnoxious, a know-it-all, and possibly the best-looking guy she's seen in any centrury



A
mer
ican Cover Turkish Cover
These covers are both so different! I like the American version better, but the other is cute too.
In this third book in the Lunar Chronicles, Cinder and Captain Thorne are fugitives on the run, now with Scarlet and Wolf in tow. Together, they're plotting to overthrow Queen Levana and her army.

Their best hope lies with Cress, a girl imprisoned on a satellite since childhood who's only ever had her netscreens as company. All that screen time has made Cress an excellent hacker. Unfortunately, she's just received orders from Levana to track down Cinder and her handsome accomplice.

When a daring rescue of Cress goes awry, the group is separated. Cress finally has her freedom, but it comes at a higher price. Meanwhile, Queen Levana will let nothing prevent her marriage to Emperor Kai. Cress, Scarlet, and Cinder may not have signed up to save the world, but they may be the only hope the world has.
American Cover French Cover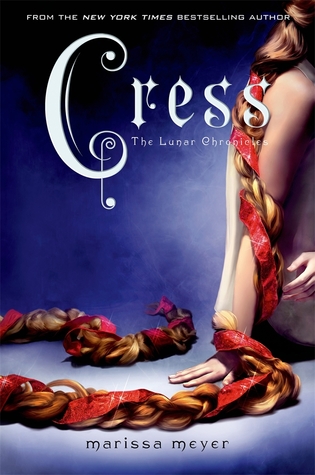 Oh my god you guys, look at the French cover. It's so gorgeous!!
Secrets, romance, murder and lies: Zoe shares a terrible secret in a letter to a stranger on death row in this second novel from the author of the bestselling debut, My Sister Lives on the Mantelpiece.

Fifteen-year-old Zoe has a secret—a dark and terrible secret that she can't confess to anyone she knows. But then one day she hears of a criminal, Stuart Harris, locked up on death row in Texas. Like Zoe, Stuart is no stranger to secrets. Or lies. Or murder.

Full of heartache yet humour, Zoe tells her story in the only way she can—in letters to the man in prison in America. Armed with a pen, Zoe takes a deep breath, eats a jam sandwich, and begins her tale of love and betrayal.
A
m
eri
c
an Cover Other American Cover
I love love love the cover on the right, with the girl on it. I don't care much for the one on the left.