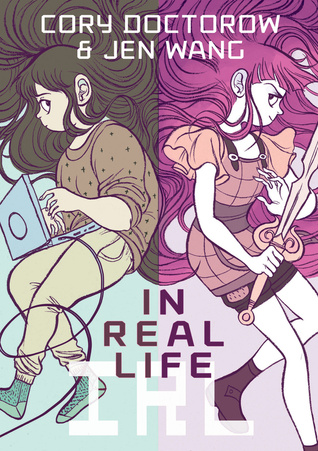 Title: In Real Life
Author: Cory Doctorow and Jen Wang
Publishing Date: October 14th, 2014
Pages: 175
Audio Length: N/A
Genre: Young Adult Graphic Novel


Anda loves Coarsegold Online, the massively-multiplayer role-playing game where she spends most of her free time. It's a place where she can be a leader, a fighter, a hero. It's a place where she can meet people from all over the world, and make friends.

But things become a lot more complicated when Anda befriends a gold farmer--a poor Chinese kid whose avatar in the game illegally collects valuable objects and then sells them to players from developed countries with money to burn. This behavior is strictly against the rules in Coarsegold, but Anda soon comes to realize that questions of right and wrong are a lot less straightforward when a real person's real livelihood is at stake.

From acclaimed teen author (Little Brother, For the Win) and Boing Boing editor Cory Doctorow and Koko Be Good creator Jen Wang, In Real Life is a perceptive and high-stakes look at adolescence, gaming, poverty, and culture clash.
What made me pick this book up:
I found it on goodreads and the cover looked great and totally something I'd like.
What did I like about the cover:
It's anime style, which I love anime, and it looks like an MMO, which I love MMOs. It's also super bright and colorful and really adorable.
What made me read this book:
MMO? Video games? Anime style? Graphic novel? Yes, yes, yes, and yes.
What did I like the most:
The art is stunning. The colors are absolutely amazing.
The writing itself is really well done.
I really liked reading about a girl who is into gaming. I like reading about gaming in general. So seeing the game they put in the book was really interesting.
Definitely the type of game I would play.
Also with the main character, she was totally adorable and chubby. I loved seeing all the different body types, instead of just seeing all the same stick figure type in the whole graphic novel.
I feel like through the book the MC really grew. She went into the gaming world so naive and innocent and just had no idea what was really happening. After speaking with someone from China, who had to farm gold just to get a paycheck, she realized how crappy it was for people in other countries. It made her think about something, besides just herself and her tiny little world.
I think it's really great that the author showed how much you can actually learn from a game.
I also loved that her parents started off not understanding the game, and wanting to shelter her from it, and I feel like the parents actually learned a lot too.
It turned out to be so much more political than I originally thought it was going to be. I was hoping for a little more gaming and a little less real world issues.
Buuuut. I think that's also partially on me, because I didn't pay attention to the synopsis. I totally judged the book by it's cover *Bad Ash, bad!*
Would I read the rest of the series/more from this author?
I think so, yes.
Not what I was expecting, but I still enjoyed it.
"– I understand the world can be cruel place and there are people out there counting on naive kids like you to take advantage of. Don't just think because it's video games people can't get hurt."
―

Cory Doctorow

,

In Real Life

Cory Doctorow is a science fiction author, activist, journalist and blogger — the co-editor of Boing Boing and the author of the YA graphic novel In Real Life, the nonfiction business book Information Doesn't Want To Be Free, and young adult novels like Homeland,Pirate Cinema, and Little Brother and novels for adults like Rapture Of The Nerds and Makers.He is a Fellow for the Electronic Frontier Foundation and co-founded the UK Open Rights Group. Born in Toronto, Canada, he now lives in Los Angeles.