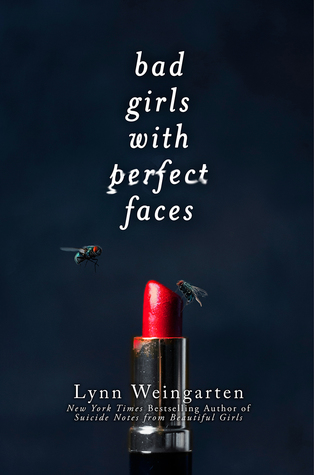 Title: Bad Girls with Perfect Faces
Publishing Date: October 31st, 2017
Pages: 320
Audio Length: 6 Hours and 5 Minutes
Genre: Young Adult Contemporary Mystery

When I looked up, his smile was wide and real. "Ready?" he said.
I faked a smile back. I had gotten so good at faking things.
I thought: You brought this on yourself, Sasha. You will have to pretend forever now.
He squeezed my hand again. He couldn't begin to imagine what this actually was. He had no idea what I'd done. What any of us had.

When Sasha's best friend Xavier gets back together with his cheating ex, Ivy, Sasha knows she needs to protect him. So she poses as a guy online to lure Ivy away.
But Sasha's plan goes sickeningly wrong. And she soon learns to be careful of who you pretend to be because you might be surprised by who you become…
What made me pick this book up:
Jenn had read it first, and loved it.
What did I like about the cover:
I like the simplicity of it. The bright red lipstick signifies Ivy well, and the flies... Well you can imagine what the flies signify.
I also like that the word "perfect" is... Well not perfect at all.
What made me read this book:
I decided I'm just going to go through my TBR list, and this was a relatively short book. I wanted something short and Jenn was raving about how good it is.
So I figured this was the perfect time to read it.
What did I like the most:
For the most part this had a decent story.
A girl falls in love with her best friend. Said best friend gets back together with crappy ex girlfriend. Girl makes a fake instagram to stalk and catch best friends crappy girlfriend. Something bad happens, everything sucks.
In the end, everything is good. Ish.
I think the writing is done well, you feel what the characters feel, the wording is really poetic. It all flows pretty well...
The ending was decent. Like I said, everything was goodish. I didn't see it coming, so the surprise was still there.
With that being said, that's about all I liked.
The characters. They were all whiny and screwed up. I understand that's what the book is about. But there is a way to write about a screwed up character without making them too completely whiny.
Xavier was dumb and blind. Sasha was crazy and selfish. And I just all around HATED Ivy. Hated.
The pace was awful, I felt like this book dragged on forever. I listened to it at 2.5 speed, and I didn't take forever to listen to it, but it just felt like it drug on.
There was so much build up, and then I felt like nothing actually really happened.
Along with that, there wasn't much world building. Again, contemporary probably doesn't need much world building, but I feel like there was barely any description of anything around them. I could not picture the characters, except for Xavier who we knew had blue hair.
Other than that I kind of read the book without picturing it much in my head, simply because it was not very descriptive.
Would I read the rest of the series/more from this author?
I actually just got Suicide Notes from Beautiful Girls, and I'm really hoping I like that one better than this one.
In the end, I still felt myself wanting to finish the book. Did I like it? Not really. Could I put it down and never finish it? Sadly no. And for that, it gets 3 stars instead of 2.
"Life messes us up in so many ways, messes all of us right the hell up. And when we fumble and bumble around, crashing into one another, stepping on toes and hearts, it's not on purpose. Being a person is nearly impossible."
―

Lynn Weingarten

,

Bad Girls with Perfect Faces

Lynn Weingarten is a New York Times bestselling author living in Brooklyn. Her fifth young adult novel, BAD GIRLS WITH PERFECT FACES, was released in the US on Halloween 2017. It will be out in the UK on January 11th, 2018.

Her previous books include SUICIDE NOTES FROM BEAUTIFUL GIRLS (a NY Times bestseller, a YALSA Teens' Top Ten book for 2016, one of Vanity Fair's list of Best Books for July, and on The Guardian's list of 5 of the Best in Young Adult Fiction), and WHEREVER NINA LIES (an ALA Top Ten Popular Paperback for Young Adults, a New York Public Library Book for the Teen Age, a YALSA Teen's Top Ten Nominee and a Sequoyah Book Award Nominee)

In the past, Lynn edited books and developed ideas for Alloy Entertainment. She is currently Creative Director of Dovetail Fiction, a new sister company from the book packager Working Partners.


She can be found on Twitter and Instagram as @lynnweingarten