Delightful Discoveries are not yet or newly published books that we have discovered recently.
"I'm not saying this is Sawyer's fault," the prim and proper one said delicately. "But."
Eighteen-year-old auto mechanic Sawyer Taft did not expect her estranged grandmother to show up at her apartment door and offer her a six-figure contract to participate in debutante season. And she definitely never imagined she would accept. But when she realizes that immersing herself in her grandmother's "society" might mean discovering the answer to the biggest mystery of her life-her father's identity-she signs on the dotted line and braces herself for a year of makeovers, big dresses, bigger egos, and a whole lot of bless your heart. The one thing she doesn't expect to find is friendship, but as she's drawn into a group of debutantes with scandalous, dangerous secrets of their own, Sawyer quickly discovers that her family isn't the only mainstay of high society with skeletons in their closet. There are people in her grandmother's glittering world who are not what they appear, and no one wants Sawyer poking her nose into the past. As she navigates the twisted relationships between her new friends and their powerful parents, Sawyer's search for the truth about her own origins is just the beginning.
Set in the world of debutante balls, grand estates and rolling green hills, Little White Lies combines a charming setting, a classic fish-out-of-water story, and the sort of layered mystery only author Jennifer Lynn Barnes can pull off.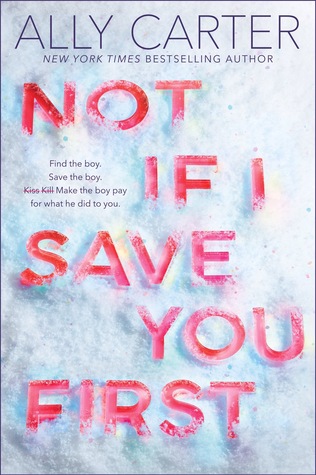 Maddie thought she and Logan would be friends forever. But when your dad is a Secret Service agent and your best friend is the president's son, sometimes life has other plans. Before she knows it, Maddie's dad is dragging her to a cabin in the middle of the Alaskan wilderness.

And not a single word from Logan.

Maddie tells herself it's okay. After all, she's the most popular girl for twenty miles in any direction. (She's also the only girl for twenty miles in any direction.) She has wood to cut and weapons to bedazzle. Her life is full.

Until Logan shows up six years later . . .

And Maddie wants to kill him.

But before that can happen, an assailant appears out of nowhere, knocking Maddie off a cliff and dragging Logan to some unknown fate. Maddie knows she could turn back- and get help. But the weather is turning and the terrain will only get more treacherous, the animals more deadly.

Maddie still really wants to kill Logan.

But she has to save him first.

The last people who expect to be meeting with a drug-addicted prostitute are a respected judge and his reclusive wife. And they certainly don't plan to kill her and bury her in their exquisite suburban garden.
Yet Andrew and Lydia Fitzsimons find themselves in this unfortunate situation.
While Lydia does all she can to protect their innocent son Laurence and their social standing, her husband begins to falls apart.
But Laurence is not as naïve as Lydia thinks. And his obsession with the dead girl's family may be the undoing of his own.

Ellie Frias disappeared long before she vanished.
Tormented throughout middle school, Ellie begins her freshman year with a new look: she doesn't need to be popular; she just needs to blend in with the wallpaper.
But when the unthinkable happens, Ellie finds herself trapped after a brutal assault. She wasn't the first victim, and now she watches it happen again and again. She tries to hold on to her happier memories in order to get past the cold days, waiting for someone to find her.
The problem is, no one searches for a girl they never noticed in the first place.

On the day Nora discovered that her husband, Hugh, had gotten another woman pregnant, she made a vow: I will come back to life no matter how long it takes…
It's taken Nora three years. With the help of her best friend, she fled New York City for a small resort town, snagged a job as the advice columnist for the local paper, and is cautiously letting a new man into her life. But when Hugh and his perfect new family move into a house nearby, Nora backslides. Coping with jealousy, humiliation, and resentment again is as hard as she feared. It's harder still when Hugh and his wife are shot to death in their home.
If only Nora could account for the night of the murders. Unfortunately, her memories have gone as dark as her fantasies of revenge. But Nora's not the only one with a reason to kill—and as prime suspect in the crime, she'd better be able to prove it.


One space station.
One throne.
And the girl who holds the key.
Tesla Petrov, daughter of an infamous traitor, no longer lives a life of promise in the Atlas space station's elite flight training program. Stripped of her military rank and banished to the slums, she now scrapes out a brutal existence competing in illegal robot fights for Minko, ruthless leader of the Red Ashes crime syndicate. But when a wrong move costs her a fight—and a fortune—for the crime lord, Tesla knows her days aboard the Atlas are numbered.
Daxton Larose isn't just visiting the station to celebrate the Centennial of the Crown—he's hunting a terrorist threatening to end a century of peace on Earth. To do so, he'll need someone who knows the station. Someone willing to strike a deal at any cost.
Someone like Tesla.
But as the hunt for the terrorist uncovers dangerous secrets from both their pasts, Tesla and Daxton realize that nothing, and no one, is what it seems.