Board Game Break Time is a new feature we're bringing in, where we play board games and review them.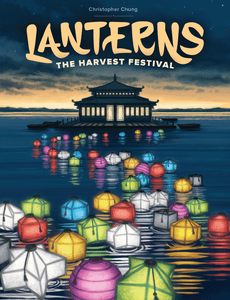 Title: Lanterns
Manufacturer: Renegade Game Studios
Release Date: 2015
Designer: Christopher Chung
Game Mechanism: Hand management, pattern building, set collection, tile placement
# of Players: 2-4
Best: 4
Ages: 8+
Play Time: 30 Minutes


From Amazon:
Place tiles, adorn the Palace lake, and dedicate lanterns in this beautiful, fast--paced board game set in Imperial China. 36 lake tiles 56 lantern cards 20 engraved wood favor tokens 30 dedication tokens 1 custom wooden fishing boat rulebook the harvest is in, and now it's time to celebrate! lanterns: the harvest festival is a tile-- placement game set in Imperial China. Players act as artisans decorating the Palace lake with floating lanterns. The artisan who earns the most honor before the festival arrives wins the game.
On your turn, you can take these three actions one time each:
Place a lake tile, which gives every player (even your opponents!) a lantern card based on the orientation of the tile. (It also could give the active player bonus lantern cards or favor tokens, depending on the placement.)
Spend favor tokens to trade one lantern card for another.
Dedicate sets of lantern cards to gain the honor you need to win the game.
Lanterns is one of the first games we played when we would go on dates to Dragon's Lair. John and I fell in love with it and told Jenn about it and they bought it. It's one that we play quite a bit.
And John almost always wins. Drives me crazy.
There's an expansion out that we played with this last time we played and it adds quite a bit into it. I didn't care much for the expansion, I was kind of confused through out it.
I think this game is better with two players, but maybe that's just me. Less competition that way.
Overall:
Learn-ability:
Game-play:
Length of play:
Artwork:
Theme:
Fun:
I was very happy to be introduced to this game way back. This game is simple to learn, simple to play, a fast playing game, and a whole lot of fun. I enjoy it each time we play it. I feel this is a great great way game into the hobby games world. I love to bring it out for those new to hobby board games... but it's also fun just to bring out with the family too. Recently we did get the expansion, Emperor's gifts, which brings in more strategy. Which is fun for us since we have played this game many many times before. It brought in a new flavor for sure. I recommend this game to anyone asking for recommendations. I can't wait until my grandson, Finn, is old enough to play this game.
Overall:
Learn-ability:
Game-play:
Length of play:
Artwork:
Theme:
Fun: