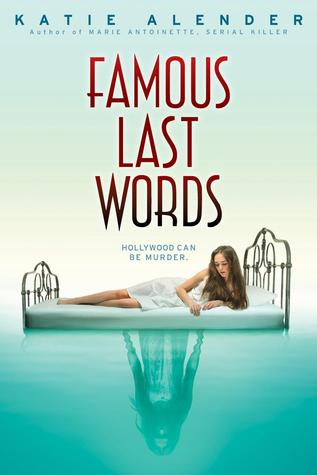 Title: Famous Last Words
Author: Katie Alender
Publisher: Point
Publishing Date: September 30th 2014
Pages: 320
Genre: YA Paranormal Mystery/Thriller
Series: Stand Alone
Source: Audio



Hollywood history, mystery, murder, mayhem, and delicious romance collide in this unputdownable thriller from master storyteller Katie Alender.




Willa is freaking out. It seems like she's seeing things. Like a dead body in her swimming pool. Frantic messages on her walls. A reflection that is not her own. It's almost as if someone -- or something -- is trying to send her a message.




Meanwhile, a killer is stalking Los Angeles -- a killer who reenacts famous movie murder scenes. Could Willa's strange visions have to do with these unsolved murders? Or is she going crazy? And who can she confide in? There's Marnie, her new friend who may not be totally trustworthy. And there's Reed, who's ridiculously handsome and seems to get Willa. There's also Wyatt, who's super smart but unhealthily obsessed with the Hollywood Killer.




All Willa knows is, she has to confront the possible-ghost in her house, or she just might lose her mind . . . or her life.




Acclaimed author Katie Alender puts an unforgettable twist on this spine-chilling tale of murder, mystery, mayhem -- and the movies.






I was hesitant with this book. I have only read one other novel by this author and I just wasn't into it. But I decided to give her another try and I am glad I did. I really liked this book. It had some flaws but not too many, definitely not enough to deter me from my enjoyment. It was pretty fast paced which I love in my thrillers. I also really liked the main character and the story. So all in all it was a very solid read.
Willa has recently lost her father and her mother has remarried, and now they are all moving to California, Hollywood. Willa is not happy about the situation but she has learned to keep smiling and keep a low profile. She doesn't like to cause waves. Since her father had died she has been trying to contact him. She feels it is her fault he has died. In the process she ends up making contact with another ghost, a murdered ghost of a serial killer who is still at large and is still killing... Movie style. She is desperate to solve the mystery and catch the killer, with a cute guy and of course this puts her in grave danger.
So I love books about serial killers, I like ghost stories, and I like thrillers. So my checklists was all checked off. I started to read the book then found it on audio so I grabbed the audio. I was really happy I did. The narrator rocked and I think this helped my liking of the book. A great narrator always does the trick for me. So I listened and from the very beginning I was hooked. It was very fast paced and very gripping. It had a hold on me for sure. I was very pleased with the pacing of the book. Most of the time with fast paced thrillers the book lacks in substance. Another thing this book had going well was the substance. There was still much substance. I did not feel it was an easy read... it had issues being dealt with, emotional baggage, and so on. I liked that bunches too. Checked off my list.
The characters... I really liked the characters. I will start with Willa. She was a bit hard to take at first. A bit on the poor me side but of course her story comes out and I understand. She never stood up for herself and that bugged me a bit too, but after a bit she grew on me. Her flaws become either unnoticeable or they lightened enough to be ignored. By the middle of the book, I really liked her. She was smart and she was pretty darn determined. She still had moments of stupidity, can't have a thriller without those, but for the most part she was intelligent, clever, and resourceful. Great main character that had growth... Checked off my list.
The love interest, the cute boy, he I liked. Again at first he was a bit hard to take. Rough around the edges but once his walls came down he was pretty loveable, funny, and a very good friend to Willa. Speaking of the love interest, the romance was very light, a background noise. It was nice when it was there and it wasn't missed when it wasn't. I like romances like these. It feels more realistic. It was also more of a start of something not a "oh my I just met you and now I can't live without you." That's always nice too. So love interest and romance good... checked off on my list.
The very few flaws in the book for me. This was a thriller and I felt it was more just a mystery. Not many chills and thrills and suspense. Not a biggie because the story was good, but I would have liked it to be a bit more jumpy. Another flaw... it was a bit predictable. Also not a biggie for me because most of the time these are predictable for me. So that's it. Other than that it was a very good read. Not real original but its a thriller.. I don't expect much out of a ghost story with the added serial killer bonus. What I went in for I did get and this book has made me want to try this author out again in the future.
It was great solid read with a great story and pretty cool characters. If you are looking for a good ghost/serial killer story. Check this one out.


Katie Alender (rhymes with "calendar"!) grew up in South Florida, which probably explains the recurring alligator dreams (one of which is documented in Bad Girls Don't Die). She is the third of four children (three girls and a boy) and the child of three very loving and encouraging parents.
She attended high school at the Palm Beach County School of the Arts, studying Communication Arts. From there, she went on to the Florida State University Film School, which led her to her current hometown, a tiny hamlet on the West Coast known as "Los Angeles."
She enjoys writing, reading, sewing (especially quilts), trying to grow plants, birdwatching in the backyard, photography, visiting friends' blogs, and hanging out with her husband (known on the blog as "the husb"), her daughter, and her little brown dog, Scooter.
Her first brush with publication was the article "So You Want to Live On Mars?" published in Sassy magazine in December 1991.