Delightful Discoveries are books that I have discovered recently... old, new, just released... from blogs, Goodreads, libraries, friends, or bookstores.

*People would kill to be thin.*

Solu's luxurious celebrity-filled "Cruise to Lose" is billed as "the biggest cruise since the Titanic," and if the new diet sweetener works as promised—dropping five percent of a person's body weight in just days—it really could be the answer to the world's obesity problem. But Laurel is starting to regret accepting her friend Viv's invitation. She's already completely embarrassed herself in front of celebrity host, Tom Forelli (otherwise known as the hottest guy ever!) and she's too seasick to even try the sweetener. And that's before Viv and all the other passengers start acting really strange.

*But will they die for it, too?*

Tom Forelli knows that he should be grateful for this job and the opportunity to shed his childhood "Baby Tom-Tom" image. His publicists have even set up a 'romance' with a sexy reality star. But as things on the ship start to get a bit wild, he finds himself drawn to a different girl. And when his celebrity hosting gig turns into an expose on the shocking side effects of Solu, it's Laurel that he's determined to save.

Emmy Laybourne, author of the Monument 14 trilogy, takes readers on a dream vacation that goes first comically, then tragically, then horrifyingly, wrong.
The Astrologer's Daughter by Rebecca Lim






Avicenna Crowe's mother, Joanne, is an astrologer with uncanny predictive powers and a history of being stalked. Now she is missing.




The police are called, but they're not asking the right questions. Like why Joanne lied about her past, and what she saw in her stars that made her so afraid.




But Avicenna has inherited her mother's gift. Finding an unlikely ally in the brooding Simon Thorn, she begins to piece together the mystery. And when she uncovers a link between Joanne's disappearance and a cold-case murder, Avicenna is led deep into the city's dark and seedy underbelly, unaware how far she is placing her own life in danger.




Pulse-racing and terrifyingly real, The Astrologer's Daughter is a stunning, original novel. It will test your belief in destiny and the endurance of love.








Claire Takata has never known much about her father, who passed away when she was a little girl. But on the anniversary of his death, not long before her seventeenth birthday, she finds a mysterious letter from her deceased father, addressed to her stepfather. Claire never even knew that they had met.

Claire knows she should let it go, but she can't shake the feeling that something's been kept from her. In search of answers, Claire combs through anything that will give her information about her father . . . until she discovers he was a member of the yakuza, the Japanese mafia. The discovery opens a door that should have been left closed.

So begins the race to outrun his legacy as the secrets of her father's past threaten Claire's friends and family, newfound love, and ultimately her life. Ink and Ashes, winner of Tu Books' New Visions Award, is a heart-stopping debut mystery that will keep readers on the edge of their seats until the very last page.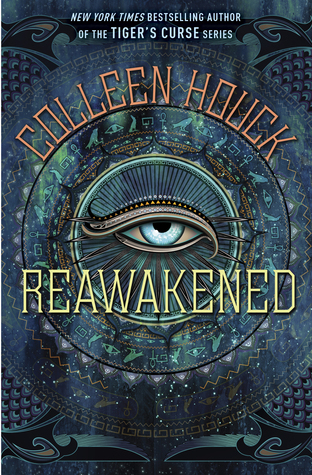 Reawakened by Colleen Houck




When seventeen-year-old Lilliana Young enters the Metropolitan Museum of Art one morning during spring break, the last thing she expects to find is a live Egyptian prince with godlike powers, who has been reawakened after a thousand years of mummification.

And she really can't imagine being chosen to aid him in an epic quest that will lead them across the globe to find his brothers and complete a grand ceremony that will save mankind.

But fate has taken hold of Lily, and she, along with her sun prince, Amon, must travel to the Valley of the Kings, raise his brothers, and stop an evil, shape-shifting god named Seth from taking over the world.

From New York Times bestselling author Colleen Houck comes an epic adventure about two star-crossed teens who must battle mythical forces and ancient curses on a journey with more twists and turns than the Nile itself.



Ruthless and supremely powerful, the Great Library is now a presence in every major city, governing the flow of knowledge to the masses. Alchemy allows the Library to deliver the content of the greatest works of history instantly—but the personal ownership of books is expressly forbidden.




Jess Brightwell believes in the value of the Library, but the majority of his knowledge comes from illegal books obtained by his family, who are involved in the thriving black market. Jess has been sent to be his family's spy, but his loyalties are tested in the final months of his training to enter the Library's service.




When he inadvertently commits heresy by creating a device that could change the world, Jess discovers that those who control the Great Library believe that knowledge is more valuable than any human life—and soon both heretics and books will burn.…