Genre Definition and Recommendation is a feature where I will define a genre and a sub-genre definition and the make some recommendations.
Science Fiction - Definition found on Wikipedia
Science Fiction- is a genre of fiction dealing with imaginary but more or less plausible (or at least non-supernatural) content such as future settings, futuristic science and technology, space travel, aliens, and paranormal abilities.
Suspense/Thriller- Definition found on Wikipedia
Suspense is a feeling of pleasurable fascination and excitement mixed with apprehension, tension, and anxiety developed from an unpredictable, mysterious, and rousing source of entertainment. The term most often refers to an audience's perceptions in a dramatic work.
This week I have a couple Science FictionThrillers to recommend
My Recommendations:












Alina Chase has been contained on an island for the last 17 years—whether that's for the crimes of her past life, or for her own protection, well, that depends on whom you ask. With soul-fingerprinting a reality, science can now screen for the soul, and everyone knows that Alina's soul had once belonged to notorious criminal, June Calahan, though that information is supposed to be private. June had accomplished the impossible: hacking into the soul-database, ruining countless lives in the process.




Now, there are whispers that June has left something behind for her next life—something that would allow Alina to access the information in the soul-database again. A way to finish the crimes she started.




Aided by three people with their own secret motivations, Alina escapes, only to discover that she may have just traded one prison for another. And there are clues. Clues only Alina can see and decipher, clues that make it apparent that June is leading her to something. While everyone believes Alina is trying to continue in June's footsteps, Alina believes June is trying to show her something more. Something bigger. Something that gets at the heart of who they all are—about the past and the present. Something about the nature of their souls.




Alina doesn't know who to trust, or what June intends for her to know, and the closer she gets to the answers, the more she wonders who June was, who she is, whether she's destined to repeat the past, whether there are truths best kept hidden—and what one life is really worth.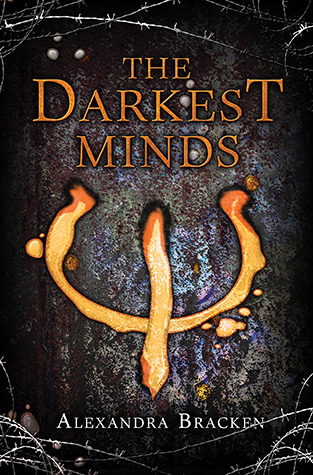 The Darkest Minds by Alexandra Bracken

When Ruby woke up on her tenth birthday, something about her had changed. Something alarming enough to make her parents lock her in the garage and call the police. Something that gets her sent to Thurmond, a brutal government "rehabilitation camp." She might have survived the mysterious disease that's killed most of America's children, but she and the others have emerged with something far worse: frightening abilities they cannot control.
Now sixteen, Ruby is one of the dangerous ones.
When the truth comes out, Ruby barely escapes Thurmond with her life. Now she's on the run, desperate to find the one safe haven left for kids like her—East River. She joins a group of kids who escaped their own camp. Liam, their brave leader, is falling hard for Ruby. But no matter how much she aches for him, Ruby can't risk getting close. Not after what happened to her parents.
When they arrive at East River, nothing is as it seems, least of all its mysterious leader. But there are other forces at work, people who will stop at nothing to use Ruby in their fight against the government. Ruby will be faced with a terrible choice, one that may mean giving up her only chance at a life worth living.