Author: Maggie Hall
Publisher: Putnam Juvenile
Publishing Date: January 13th 2015
Pages: 336
Genre: YA Mystery Suspense/Thriller
Series: The Conspiracy of Us #1
Source: Audio



A fast-paced international escapade, laced with adrenaline, glamour, and romance--perfect for fans of Ally Carter




Avery West's new found family can shut down Prada when they want to shop in peace, and can just as easily order a bombing when they want to start a war. Part of a powerful and dangerous secret society called the Circle, they believe Avery is the key to an ancient prophecy. Some want to use her as a pawn. Some want her dead.




To unravel the mystery putting her life in danger, Avery must follow a trail of clues from the monuments of Paris to the back alleys of Istanbul with two boys who work for the Circle—beautiful, volatile Stellan and mysterious, magnetic Jack. But as the clues expose a stunning conspiracy that might plunge the world into World War 3, she discovers that both boys are hiding secrets of their own. Now she will have to choose not only between freedom and family--but between the boy who might help her save the world, and the one she's falling in love with.



This was one of my most anticipated read for 2015. I was ecstatic when I found it was on audio. I grabbed it, I listened to it, I loved it. It was wonderful and fulfilled my expectations. I had just a few tiny complaints but really nothing that took away from my total enjoyment of this well written, imaginative story.


Avery has grown up on the move. From town to town, state to state. Always moving, just her and her mother. In all the moves she has learned one thing. Don't get close, don't get comfortable, don't make roots. She knew how to do this, that was until she met Jack. Jack changed everything. She met Jack, she went to prom wit Jack and now she is on the run with Jack. She has found a secret life she never knew she had. A secret past she never knew her mother had. A secret father she thought was dead. This life, that past, her father.... Its more than she can handle. Its dangerous, its murderous, its a secret society that holds the strings of the world. Now Avery is deeply involved and she is the only one that can stop the plans of the powerful evil that threatens her family and friends or become very powerful and be a part of the very dangerous lifestyle of the evil that is her family.
I don't know what I expected when I started this book, but I can tell you I didn't expect what I got. I thought the story sounded good, interesting, but it was so much more. It was intense, adventurous, dark and awesome. I loved it.
I loved the story, The idea of a secret society is not new, but usually they run a school or a town... not the entire world. This was very interesting to me. The fact that they date way to the time of Alexander the Great. Even more cool. The way it all fell together and something so crazy sounded plausible. Um yes that is great storytelling. This author knows how to tell a story and I was immersed from the very beginning.
The characters were great too. I simply adored Avery. She was head strong and yes very stupid at times. Quick to make a rash decision that usually led to more trouble, but she was smart. She was loyal, she was independent, she was flawed with normal life flaws... like afraid of heights. I connected to her right away and felt when she made some very quick stupid not through through decisions, I didn't need to slap her. I just would roll my eyes and know she would figure it all out in the end. Of course having someone like Jack by her side helped tremendously.
Jack was just well he was super. Charming, good looking, English accent, intelligent, protective, innovative, he was perfect spy material. The next James Bond maybe. I liked him from the very beginning and that just his character brought so much good stuff to the story. Just like Stellan. Now I was not a Stellan fan as a person. He was obnoxious, cocky, arrogant, annoying, YES I know that most of those mean the same thing. Because that is all he was... well except he was witty and funny too. That is what I did like. As an added character he was awesome, a bonus. He made things a bit more fun and not so serious. Even though most of the time I wanted to punch him.
The romance was pretty awesome in this book. It starts off with what seems to be a love triangle but in the end it really wasn't. One of my very few complaints was yes a little bit of a love triangle set up. I hope it wasn't truly a set up and things will be head in a different direction but as this book, it was just a set up. Really there was only one romance between Jack and Avery and it was hot. I loved it. No it wasn't insta love. It was insta attraction. But that does exist. It takes them just a bit to fall in love. Of course it still felt a little fast but its a book. That happens. I am so happy with the romance and this couple though.
The story was full of mystery and thrills. Adventures, fast paced chases, betrayals and secrets and oh my what just happened moments. Very fast paced. Very fast read or listen. The only other complaint I have, and its very minor. Some of the world building lacked for me. There were a few times I felt lost and confused. Only a handful or less amount of times and it didn't take too much away from the story. In the end I understood all that was going on so it was good. Just a minor complaint.
Oh and one more minor complaint. The ending. Dear authors.... please please stop with the cliffhanger endings!!!!
All in All a very solid read. I highly recommend to romance lovers and thrill seekers. And if you aren't either of those give it try anyways. It really was a bunch of awesome.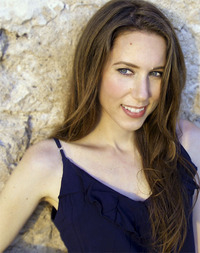 Maggie Hall is a traveling, decorating, champagne-drinking, USC-football-watching YA author. She is currently traveling the world for an indefinite amount of time with her husband, which means right at this moment, she might be on a beach in Thailand, drinking wine in Paris, or anywhere in between.

Her debut novel, a YA international thriller, is coming from Putnam/Penguin in 2015.