Delightful Discoveries are books that I have discovered recently... old, new, just released... from blogs, Goodreads, libraries, friends, or bookstores.

Perfection comes at a price.

As soon as the government passed legislation allowing humans to be genetically engineered and sold as pets, the rich and powerful rushed to own beautiful girls like Ella. Trained from birth to be graceful, demure, and above all, perfect, these "family companions" enter their masters' homes prepared to live a life of idle luxury.

Ella is happy with her new role as playmate for a congressman's bubbly young daughter, but she doesn't expect Penn, the congressman's handsome and rebellious son. He's the only person who sees beyond the perfect exterior to the girl within. Falling for him goes against every rule she knows…and the freedom she finds with him is intoxicating.

But when Ella is kidnapped and thrust into the dark underworld lurking beneath her pampered life, she's faced with an unthinkable choice. Because the only thing more dangerous than staying with Penn's family is leaving…and if she's unsuccessful, she'll face a fate far worse than death.

For fans of Kiera Cass' Selection series and Lauren DeStefano's Chemical Garden series, Perfected is a chilling look at what it means to be human, and a stunning celebration of the power of love to set us free, wrapped in a glamorous—and dangerous—bow.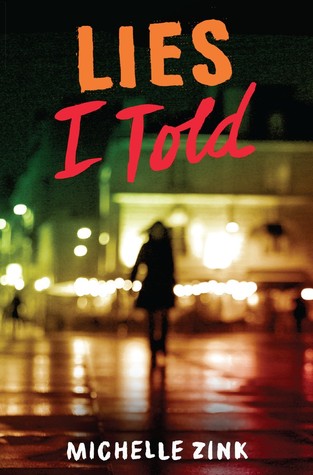 Lies I Told by Michelle Zink


What if, after spending a lifetime deceiving everyone around you, you discovered the biggest lies were the ones you've told yourself?




Grace Fontaine has everything: beauty, money, confidence, and the perfect family.




But it's all a lie.




Grace has been adopted into a family of thieves who con affluent people out of money, jewelry, art, and anything else of value. Grace has never had any difficulty pulling off a job, but when things start to go wrong on the Fontaines' biggest heist yet, Grace finds herself breaking more and more of the rules designed to keep her from getting caught...including the most important one of all: never fall for your mark.




Perfect for fans of Ally Carter, Cecily von Ziegesar, and Gail Carriger, this thrilling, high-stakes novel deftly explores the roles of identity and loyalty while offering a window into the world of the rich and fabulous.

"I am a collection of oddities, a circus of neurons and electrons: my heart is the ringmaster, my soul is the trapeze artist, and the world is my audience. It sounds strange because it is, and it is, because I am strange."
After the sudden collapse of her family, Mim Malone is dragged from her home in northern Ohio to the "wastelands" of Mississippi, where she lives in a medicated milieu with her dad and new stepmom. Before the dust has a chance to settle, she learns her mother is sick back in Cleveland.
So she ditches her new life and hops aboard a northbound Greyhound bus to her real home and her real mother, meeting a quirky cast of fellow travelers along the way. But when her thousand-mile journey takes a few turns she could never see coming, Mim must confront her own demons, redefining her notions of love, loyalty, and what it means to be sane.
Told in an unforgettable, kaleidoscopic voice, "Mosquitoland" is a modern American odyssey, as hilarious as it is heartbreaking.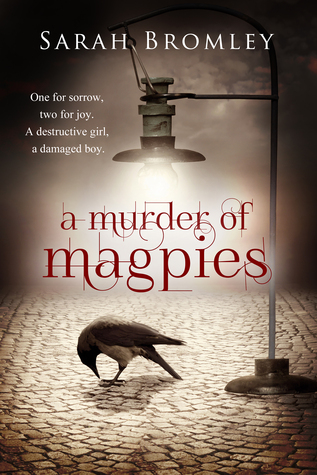 A Murder of Magpies by Sarah Bromley





Winter in Black Orchard, Wisconsin, is long and dark, and sixteen-year-old Vayda Silver prays the snow will keep the truth and secrecy of the last two years buried. Hiding from the past with her father and twin brother, Vayda knows the rules: never return to the town of her mother's murder, and never work a Mind Game where someone might see.

No one can know the toll emotions take on Vayda, how emotion becomes energy in her hands, or how she can't control the destruction she causes. But it's not long before her powers can no longer be contained. The truth is dangerously close to being exposed, placing Vayda and her family at risk.

Until someone quiets the chaos inside her.

Unwanted. That's all Ward Ravenscroft has ever been. To cope, he numbs the pain of rejection by denying himself emotions of any kind. Yet Vayda stirs something in him. He can't explain the hold she has on him--inspiring him with both hope and fear. He claims not to scare easily, except he doesn't know what her powers can do. Yet.

Just as Vayda and Ward draw closer, she finds the past isn't so easily buried. And when it follows the Silvers to Black Orchard, it has murder in mind.



Tomboy to the core, Toni Valentine understands guys. She'll take horror movies, monster hunts and burping contests over manicures any day. So Toni is horrified when she's sent to the Winston Academy for Girls, where she has to wear a skirt and learn to be a "lady" while the guys move on without her.




Then Toni meets Emma Elizabeth, a girl at school with boy troubles, and she volunteers one of her friends as a pretend date to make Emma's ex jealous. Soon word spreads of Toni's connections with boys, and she discovers that her new wealthy female classmates will pay big money for fake dates. Looking for a way to connect her old best friends with her new life at school, Toni and Emma start up Toni Valentine's Rent-A-Gent Service.




But the business meets a scandal when Toni falls for one of her friends—the same guy who happens to be the most sought-after date. With everything she's built on the line, Toni has to decide if she wants to save the business and her old life, or let go of being one of the guys for a chance at love.