It's Graphic Time is a feature where we review graphic novels and comic books.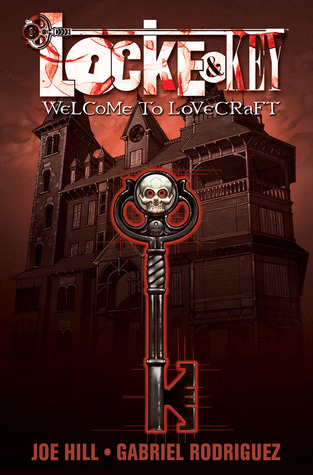 Title: Welcome to Lovecraft
Author: Joe Hill
Illustrator: Gabriel Rodriguez
Publisher: IDW Publishing
Publishing Date: September 29th, 2008
Pages: 168
Audio Length: 13 Hours 23 Minutes
Genre: Horror Graphic Novel
TW: Murder, lots of blood and gore
What made me pick this book up:
I don't remember where I saw this first, maybe on someone's blog? Anyway. The cover probably was what caught my eye.
That and the title, Welcome to Lovecraft. Because H.P.Lovecraft and Cthulhu are one of my favorite things.
What did I like about the cover:
I love the colors. The black and red and white. It all flows very well together. I love the font and how it looks like blood. The key is awesome and the house is ominous. It gives you almost a feeling of foreboding.
What made me read this book:
Probably the fact that it says it's home to a hate-filled and relentless monster.
Okay but really, we all know Ash has a love of all things creepy and macabre. This book looked like it would give me nightmares.
Horror graphic novels are the best. You can see everything happening.
What did I like the most:
The story is really interesting to me. It kept my attention. There was crazy twists and turns every time you turned the page.
I just had to finish this book, I had to. I had to know what happened. Of course we don't find out the whole story in this one.
Anyway. It is definitely creepy and has a lot of gore and scary moments. It does leave you with this heart sinking feeling that nothing will ever be okay again.
And like with any good horror book you have no idea who is going to die and who isn't. So of course it has you holding your breath and just waiting. Waiting for something awful to happen. And really a lot of awful things happen.
I feel like it was a good first book to set the story for the rest of them.
This was a bit confusing at first. I had started this one last year when I bought it, and then lost it. It fell under the deep abyss that is my bed. So anyway, when I found it I decided to read it.
And I'm glad I did, I started it over at the beginning and understood it a lot better the second time around. Granted I didn't get very far the first time. But it was still confusing.
The second time around I understood and finished it in like 2 days.
There is a couple characters that look very similar. And that to me is also confusing... Graphic novels can be kind of confusing sometimes...
Overall though I really enjoyed this book.
Would I read the rest of the series/more from this author?

Yes! I cannot wait to read the rest of these.
The artwork is really awesome. Very dark and mysterious, and definitely creepy and macabre looking.
It does get pretty graphic at some points, just a heads up. There is death, murder, blood... It can be a lot.
These characters are written so well!
They all have a lot of personality and I mean a lot. The creepy demented kid is very creepy and demented, the older brother is a sad brooding type. The sister is just lost. I loved the little brother.
I felt like I got to know each of them.
This one starts out with a bang! It is just go go go from the beginning. There is absolutely no slow parts.
Okay this one is actually really unique I think. In this house there are keys. Each key goes to a different door. When you open the door you have no idea what might happen. You might be transferred to a different place, different time, you might die and your spirit leaves you. It's insane.
With this story it does take a bit to get into what the what is that's happening, but once you do it's insane.
I am so obsessed with this series. I cannot wait to read more.

Author: Joe Hill, his debut, Heart-Shaped Box, won the Bram Stoker Award for Best First Novel. His second, Horns, was made into a film freakfest starring Daniel Radcliffe. His other novels include NOS4A2, and his #1 New York Times Best-Seller, The Fireman... which was also the winner of a 2016 Goodreads Choice Award for Best Horror Novel.
He writes short stories too. Some of them were gathered together in his prize-winning collection, 20th Century Ghosts.
He won the Eisner Award for Best Writer for his long running comic book series, Locke & Key, co-created with illustrator and art wizard Gabriel Rodriguez.
He lives in New Hampshire with a corgi named McMurtry after a certain beloved writer of cowboy tales. His next book, Strange Weather, a collection of novellas, storms into bookstores in October of 2017. Genre: Fiction, Horror, Science Fiction
Website / Twitter

Illustrator: Gabriel Rodriguez, Architect, artist and illustrator. He started his career with myth based illustrations for card games, and then jumped into the world of professional comics working with IDW Publishing. In addition to his current work in Locke & Key, his collaborations with IDW include Clive Barker's The Great and Secret Show, Beowulf, George Romero's Land Of The Dead, as well as several CSI comics and some covers for Angel and Transformers. Genre: Graphic Novels Twitter