Delightful Discoveries are not yet or newly published books that we have discovered recently.
In his much-anticipated debut novel, Hank Green--cocreator of Crash Course, Vlogbrothers, and SciShow--spins a sweeping, cinematic tale about a young woman who becomes an overnight celebrity before realizing she's part of something bigger, and stranger, than anyone could have possibly imagined.

The Carls just appeared. Coming home from work at three a.m., twenty-three-year-old April May stumbles across a giant sculpture. Delighted by its appearance and craftsmanship--like a ten-foot-tall Transformer wearing a suit of samurai armor--April and her friend Andy make a video with it, which Andy uploads to YouTube. The next day April wakes up to a viral video and a new life. News quickly spreads that there are Carls in dozens of cities around the world--everywhere from Beijing to Buenos Aires--and April, as their first documentarian, finds herself at the center of an intense international media spotlight.




Now April has to deal with the pressure on her relationships, her identity, and her safety that this new position brings, all while being on the front lines of the quest to find out not just what the Carls are, but what they want from us.

Compulsively entertaining and powerfully relevant, An Absolutely Remarkable Thing grapples with big themes, including how the social internet is changing fame, rhetoric, and radicalization; how our culture deals with fear and uncertainty; and how vilification and adoration spring from the same dehumanization that follows a life in the public eye.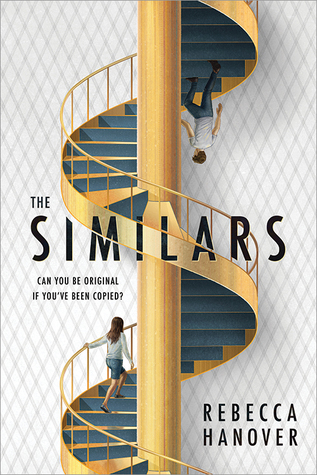 The Similars by Rebecca Hanover



When six clones join Emmaline's prestigious boarding school, she must confront the heartbreak of seeing her dead best friend's face each day in class.

The Similars are all anyone can talk about at the elite Darkwood Academy. Who are these six clones? What are the odds that all of them would be Darkwood students? Who is the madman who broke the law to create them? Emma couldn't care less. Her best friend, Oliver, died over the summer and all she can think about is how to get through her junior year without him. Then she comes face-to-heartbreaking-face with Levi—Oliver's exact DNA replica and one of the Similars.

Emma wants nothing to do with the Similars, but she keeps getting pulled deeper and deeper into their clique, uncovering dark truths about the clones and her prestigious school along the way. But no one can be trusted…not even the boy she is falling for who has Oliver's face.
Dexter meets This Savage Song in this dark fantasy about a girl who sells magical body parts on the black market — until she's betrayed.

Nita doesn't murder supernatural beings and sell their body parts on the internet—her mother does that. Nita just dissects the bodies after they've been "acquired." But when her mom brings home a live specimen, Nita decides she wants out — dissecting living people is a step too far.

But when she tries to save her mother's victim, she ends up sold on the black market in his place — because Nita herself is a supernatural being. Now Nita is on the other side of the bars, and there is no line she won't cross to escape and make sure no one can ever capture her again.




Nita did a good deed, and it cost her everything. Now she's going to do a lot of bad deeds to get it all back.
In the pulse-racing new suspense novel from the bestselling and acclaimed author of Bring Her Home and Since She Went Away, the life of a little girl rests in the hands of the father who never even knew she existed...

When Michael Frazier's ex-wife, Erica, shows up on his doorstep pleading for help, she drops a bombshell that threatens to rip his family apart: Erica's nine-year-old daughter is missing--and Michael is the father. Unable to quickly determine if Erica is telling the truth, and unwilling to leave the little girl's fate to chance, Michael has no choice but to follow the elusive trail of the child he has always wanted and never knew he had.

But finding Felicity comes at a price--the closer Michael gets to the truth, the further into jeopardy his marriage falls and the faster his family begins to unravel. As lies that span a decade bubble to the surface and the window for Felicity's safe return closes, Michael will have just a few short days to decide who can be trusted and who is hiding the truth.
When Miranda Black's mother abandoned her, she took everything—the sun, moon, and stars—and Miranda found shelter in her friendship with Syd, who wore her own motherlessness like a badge of honor: Our mothers abandoned us. We won't go begging for scraps.

When Syd runs away suddenly and inexplicably in the middle of their senior year, Miranda is abandoned once again, left to untangle the questions of why Syd left, where she is—and if she's even a friend worth saving. Her only clue is Syd's discarded pink leopard print cell phone and a single text contained there from the mysterious HIM. Along the way, forced to step out from Syd's enormous shadow, Miranda finds herself stumbling into first love with Nick Allison of all people and learning what it means to be truly seen, to be finally not missing in her own life.
Filled with magic and fierce emotion, Lisa Jensen's multilayered novel will make you question all you think you know about beauty, beastliness, and happily ever after.

They say Château Beaumont is cursed. But servant-girl Lucie can't believe such foolishness about handsome Jean-Loup Christian Henri LeNoir, Chevalier de Beaumont, master of the estate. But when the chevalier's cruelty is revealed, Lucie vows to see him suffer. A wisewoman grants her wish, with a spell that transforms Jean-Loup into monstrous-looking Beast, reflecting the monster he is inside. But Beast is nothing like the chevalier. Jean-Loup would never patiently tend his roses; Jean-Loup would never attempt poetry; Jean-Loup would never express remorse for the wrong done to Lucie. Gradually, Lucie realizes that Beast is an entirely different creature from the handsome chevalier, with a heart more human than Jean-Loup's ever was. Lucie dares to hope that noble Beast has permanently replaced the cruel Jean-Loup — until an innocent beauty arrives at Beast's château with the power to break the spell.