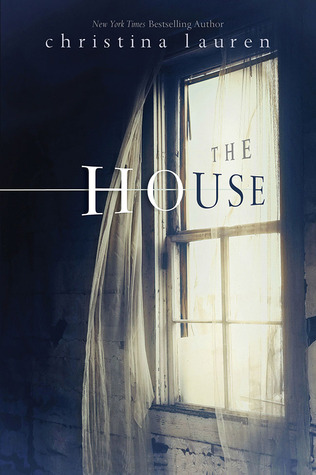 Author: Christina Lauren
Publisher:
Simon & Schuster Books for Young Readers
Publishing Date: October 9th 2015
Pages: 384
Genre: YA Psychological Horror
Series: Stand Alone
Source: Audio

Gavin tells Delilah he's hers—completely—but whatever lives inside that house with him disagrees.

After seven years tucked away at an East coast boarding school, Delilah Blue returns to her small Kansas hometown to find that not much has changed. Her parents are still uptight and disinterested, her bedroom is exactly the way she left it, and the outcast Gavin Timothy still looks like he's crawled out of one of her dark, twisted drawings.

Delilah is instantly smitten.

Gavin has always lived in the strange house: an odd building isolated in a stand of trees where the town gives in to mild wilderness. The house is an irresistible lure for Delilah, but the tall fence surrounding it exists for good reason, and Gavin urges Delilah to be careful. Whatever lives with him there isn't human, and isn't afraid of hurting her to keep her away.



I was so super excited when I saws this book. I remember as a kid sneaking a few peeks at a horror movie called House and the book synopsis reminded of that movie. So I grabbed it and read it and loved it. The story lacked in a few things for me.... but really not really. I enjoyed this read. I did get what I was looking for.
Delilah has been away at a boarding school for seven years. When she left seven years ago, she had a crush. The entire seven years she has had the same crush. When unforeseen circumstances brings her home... she comes home with said crush.
Gavin is a loner, sticks to himself. Everyone thinks he is strange and creepy... everyone but Delilah who happens to have been crushing on his for seven years.
Delilah comes home gets involved with Gavin to find out Gavin lives in a freak house and has no parents. Hasn't had any since he was very little and he just barely remembers having a mother. House takes care of him. Feeds him, makes sure he is provided for, healthy and even that he goes to school.
When Gavin and Delilah turn serious.... House has an issue with it. It does not want Gavin to have a life outside of House and not with anything else especially Delilah. So House fights to keep Gavin and Gavin and Delilah fight back.
t was pretty darn good. I wouldn't say it was as creepy or horrific as I was hoping for but it was really good. It was a slow burn kind of intensity. What is House going to do and when and how bad will it be. It was a pretty big build up. There were some instances where House really shows its true colors for the most part though it was the build up to the when and how not as much as the right now.

I liked the characters. They were both strange in their own way. Delilah was a bit off. She liked to read about death and liked to be scared. Of course this changed when it was happening for real but she was just a tad on the morbidly strange side.

Gavin seemed very strange and creepy on the outside but he wasn't as much as Delilah was on the inside. He did have his darker side but mostly he was just trying to keep people away, hide the fact he was living alone, without parents, under 18, and his house was a living thing., That is a lot to deal with and he did with good grades too. He was a very decent kid for not having parents.

The trouble all started when Gavin brought Delilah home and at first it didn't seem it was going to be an issue. Of course what kind of story would that be. The creepiest part for me was that House could reach them anywhere. It could stowaway on Gavin's clothes, or in the ground, through the power lines. I mean stalker house. It was very strange and gave me the heebie jeebies for sure.

This book had a lot of romance. It felt fast because it happened fast in the book, but story wise. They knew each other a long time and they talked for a bit before all the touch feely and sweet murmurs started. So not too fast. I liked their romance. It was a bit intense and strange but sweet too. Normal teenage stuff... you are my world,can't live without you stuff... but not to bad and didn't cause any eye rolls. So I liked it. It was a big part (not as big as the creepy stalker house story ) of the story... so yes its a romance too.

The ending wrapped everything up, explained it all, made sense and was good. Nothing unexplained.... nothing left for the imagination. I did like that. So many of my reads lately have been...well lets let the reader figure out what they want to think and leave it at that. I hate those . I need definites in my life and this one was definite.
I really really enjoyed it. Great October Read

Christina Lauren is the combined pen name of long-time writing partners/besties/soulmates/brain-twins Christina Hobbs and Lauren Billings. The coauthor duo writes both Young Adult and Adult Fiction, and together has produced eleven New York Times bestselling novels. Their books have been translated into 23+ languages. (Some of these books have kissing. Some of these books have A LOT of kissing.)

We don't respond to private messages here, so please contact us via twitter (@seeCwrite for Christina and @LolaShoes for Lauren) or our site. Thank you!!