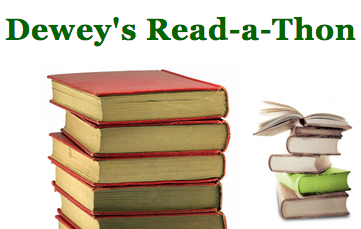 I was so excited when I saw this posted on a fellow bloggers site. I love read-a-thons and it was time for another one. I will not be able to stay away for the entire 24 hours and read but I will read for as many hours as I can. If you would like to join.. it starts Saturday October 13th 7am CST- Sign ups here!
Here are some books I hope to get through....
Will you join? and What will you read?
Introductory Questionnaire
1) What fine part of the world are you reading from today?
I am reading from the great state of Texas
2) Which book in your stack are you most looking forward to?
I am really looking forward to Dead is a Killer Tune and This is not a Test.
There are a few I need to get out of the way first, so I hope I at least get to one of them.
3) Which snack are you most looking forward to?
I have guacamole dip and Chips, cheese cubes, and kolaches and coffee on the way for breakfast. I may make a candy run later and probably lots more coffee.
4) Tell us a little something about yourself!
hmmm, I am book obsessed (apparently) I am not too good with words, I love people (especially ones that are book obsessed) I prefer to read snuggled in my oversized chair cuddled with my German Shepherd.
5) If you participated in the last read-a-thon, what's one thing you'll do different today? If this is
your first read-a-thon, what are you most looking forward to?
This is my first 24 hour read-a-thon, I hope to be able to stay up late. I am looking forward to a bunch of reading, mini-games, and getting to know so new to me bloggers and chatting with those I already know.