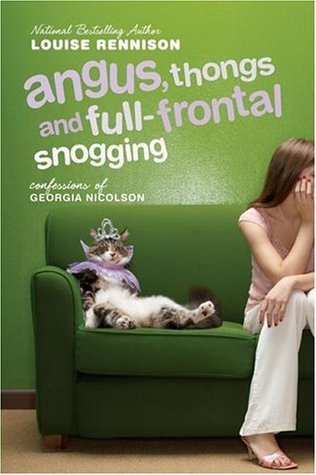 Title: Angus, Thongs, and Full- Frontal Snogging
Publishing Date: April 11th, 2006
Series: Confessions of Georgia Nicolson


There are six things very wrong with my life:
1. I have one of those under-the-skin spots that will never come to a head but lurk in a red way for the next two years.
2. It is on my nose
3. I have a three-year-old sister who may have peed somewhere in my room.
4. In fourteen days the summer hols will be over and then it will be back to Stalag 14 and Oberfuhrer Frau Simpson and her bunch of sadistic teachers.
5. I am very ugly and need to go into an ugly home.
6. I went to a party dressed as a stuffed olive.
In this wildly funny journal of a year in the life of Georgia Nicolson, British author Louise Rennison has perfectly captured the soaring joys and bottomless angst of being a teenager. In the spirit of Bridget Jones's Diary, this fresh, irreverent, and simply hilarious book will leave you laughing out loud. As Georgia would say, it's "Fabbity fab fab!"
What made me pick this book up:
Oh goodness... Jenn was reading it when I was like 15. And she kept talking about it and she was always cracking up over it.


What did I like about the cover:
I don't care for the cartoon one, but the live version is cute. I love Angus.


What made me read this book:
Well, the first time because Jenn kept laughing and talking about it. It's funny, because when she first read it, I thought I wasn't allowed. So I was sneaking trying to read it. But this time I read it because it fit for a task in the challenge.


What did I like the most:
Georgia is pretty funny. Incredibly dramatic. Some of the things she says and does is just downright ridiculous. I also absolutely adore Angus, and I always pictured him as my fat cat Gimli, while I was reading it. My favorite part is when she shaved off her eyebrows, by accident, because plucking them hurt too bad. I feel like it's something I might have done at that age. I also really enjoyed listening to it this time around, it was funny hearing what she had to say, out loud.


I found Georgia also a bit annoying this time around. It made me wonder if I was that dramatic and dumb at 14. I also really don't like how she treats her friends.


Would I read the rest of the series/more from this author?
Of course, I want to finish reading the series. I think we have them all on audio.
Not quite as funny as I remember, but still had me giggling.
"Through my curtains I can see a big yellow moon. I'm thinking of all the people in the world who will be looking at that same moon.
I wonder how many of them haven't got any eyebrows?"
―
Louise Rennison
,
Angus, Thongs and Full-Frontal Snogging

Louise Rennison was the bestselling award-winning author of the phenomenally successful 'Confessions of Georgia Nicolson' series, translated into over 34 languages and to the stage and big screen as 'Angus, Thongs and Perfect Snogging'. She has won the Nestle Smarties Book Prize, the Michael L. Printz Honor Book and the Roald Dahl Funny prize for 'Withering Tights'. Louise sadly died on the February 29, 2016.