Delightful Discoveries are books that I have discovered recently... old, new, just released... from blogs, Goodreads, libraries, friends, or bookstores.


The Stranger Game is a dark, suspenseful, and twisty young adult novel—perfect for fans of Lauren Oliver and E. Lockhart—about fifteen-year-old Nico Walker, whose sister returns home after a four-year disappearance.

When Nico Walker's older sister mysteriously disappears, her parents, family, and friends are devastated. But Nico can never admit what she herself feels: relief at finally being free of Sarah's daily cruelties.

Then the best and worst thing happens: four years later, after dozens of false leads, Sarah is found.

But this girl is much changed from the one Nico knew. She's thin and drawn, where Sarah had been golden and athletic; timid and unsure, instead of brash and competitive; and strangest of all, sweet and kind, when she had once been mean and abusive. Sarah's retrograde amnesia has caused her to forget almost everything about her life, from small things like the plots of her favorite books and her tennis game to the more critical—where she's been the last four years and what happened at the park on the fateful day she vanished. Despite the happy ending, the dark details of that day continue to haunt Nico, and it becomes clear that more than one person knows the true story of what happened to Sarah. . . .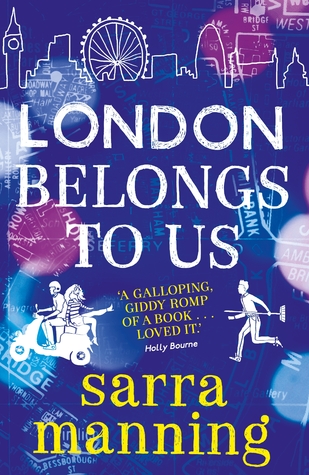 Seventeen-year-old Sunny's always been a little bit of a pushover. But when she's sent a picture of her boyfriend kissing another girl, she knows she's got to act. What follows is a mad, twelve-hour dash around London - starting at 8pm in Crystal Palace (so far away from civilisation you can't even get the Tube there) then sweeping through Camden, Shoreditch, Soho, Kensington, Notting Hill . . . and ending up at 8am in Alexandra Palace.




Along the way Sunny meets a whole host of characters she never dreamed she'd have anything in common with - least of all the devilishly handsome (and somewhat vain) French 'twins' (they're really cousins) Jean Luc and Vic. But as this love-letter to London shows, a city is only a sum of its parts, and really it's the people living there who make up its life and soul. And, as Sunny discovers, everyone - from friends, apparent-enemies, famous bands and even rickshaw drivers - is willing to help a girl on a mission to get her romantic retribution.



















An idealistic young student and a banished warrior become allies in a battle to save their realm in this first book of a mesmerizing epic fantasy series, filled with political intrigue, violent magic, malevolent spirits, and thrilling adventure

Everything has a spirit: the willow tree with leaves that kiss the pond, the stream that feeds the river, the wind that exhales fresh snow . . .

But the spirits that reside within this land want to rid it of all humans. One woman stands between these malevolent spirits and the end of humankind: the queen. She alone has the magical power to prevent the spirits from destroying every man, woman, and child. But queens are still just human, and no matter how strong or good, the threat of danger always looms.

With the position so precarious, young women are chosen to train as heirs. Daleina, a seemingly quiet academy student, is under no illusions as to her claim to the throne, but simply wants to right the wrongs that have befallen the land. Ven, a disgraced champion, has spent his exile secretly fighting against the growing number of spirit attacks. Joining forces, these daring partners embark on a treacherous quest to find the source of the spirits' restlessness—a journey that will test their courage and trust, and force them to stand against both enemies and friends to save their land . . . before it's bathed in blood.




Zeus gave her one simple job: Kill every human. Atropos-daughter of Zeus and the third goddess of Fate from Greek mythology -spends her eternal life snipping human lifelines when their mortal lives are over. As if being a killer doesn't make life miserable enough, she and her Fate-wielding sisters must live amongst the humans on Earth thanks to a long-running feud between their mother and Zeus. Living on Earth means they must mingle with the mortals, attend the local high school, and attempt to fit in-or at least not stand out too much.

Killing and mingling don't mix, which is why Atropos' number-one rule is to avoid all relationships with the humans. Caring for the people she has to kill is a fast track to insanity. However, when Alex Morgan walks into her first-period English class, she knows she's in for trouble. He's the worst kind of human for her to like-one with a rapidly approaching expiration date. And he makes Atropos want to break all the rules.
Two teens are forced to murder—maybe each other—in the first in a chilling new series from Neal Shusterman, author of theNew York Times bestselling Unwind dystology.

In a world where disease has been eliminated, the only way to die is to be randomly killed ("gleaned") by professional reapers ("scythes"). Citra and Rowan are teenagers who have been selected to be scythe's apprentices, and—despite wanting nothing to do with the vocation—they must learn the art of killing and come to understand the necessity of what they do.

Only one of them will be chosen as a scythe's apprentice. And when it becomes clear that the winning apprentice's first task will be to glean the loser, Citra and Rowan are pitted against one another in a fight for their lives.