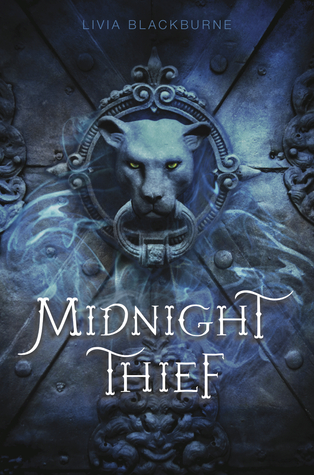 Title: The Midnight Thief
Publisher: Disney Hyperion

Publishing Date: July 8th 2014
Pages: 368

Growing up on Forge's streets has taught Kyra how to stretch a coin. And when that's not enough, her uncanny ability to scale walls and bypass guards helps her take what she needs.

But when the leader of the Assassins Guild offers Kyra a lucrative job, she hesitates. She knows how to get by on her own, and she's not sure she wants to play by his rules. But he's persistent—and darkly attractive—and Kyra can't quite resist his pull.

Tristam of Brancel is a young Palace knight on a mission. After his best friend is brutally murdered by Demon Riders, a clan of vicious warriors who ride bloodthirsty wildcats, Tristam vows to take them down. But as his investigation deepens, he finds his efforts thwarted by a talented thief, one who sneaks past Palace defenses with uncanny ease.

When a fateful raid throws Kyra and Tristam together, the two enemies realize that their best chance at survival—and vengeance—might be to join forces. And as their loyalties are tested to the breaking point, they learn a startling secret about Kyra's past that threatens to reshape both their lives.

I love a well written high fantasy and its hard for me to find those. This one was a pretty darn good one. I didn't love it as I hoped I would, but I did enjoy the read. The story if full of big characters, crazy enemies, but of wildness, and a whole lot of fantasy. The only thing that held me back just a tad was the pacing. The book did lag a bit for me at times but still enjoyable.

This story is about Kyra, Tristam, James, and some really big scary cats. Krya grew up an orphan, she survives by being a thief. Tristam is a knight, works for the palace, protecting it from danger. That danger at the moment is James and some evil cats. James is the leader of the assassin's guild and is currently looking to take down the palace and all they stand for. The big scary evil cats are just that. Huge wild cats who eat people. This is the story about how all their lives intertwine.

I absolutely loved the story behind all that happens in this book. I love how there are 3 different stories happening but they all come together to become one story. This was a great fantasy story and I thoroughly enjoyed it. The writing was good, not as complex as most High Fantasies and it worked well for the story. The pacing was off for me at times, like I said. There were a few times throughout the book I found myself just skimming, then there were times that I couldn't stop reading for even a second. I like my books to be more evenly paced. So that was an issue for me but I made it through the read and with a smile on my face.
The characters were well developed. I especially like Kyra. I felt her struggles throughout and understood her quite well. She was a real survivor and would do just about anything to help those she loved. Which is what led her to the assassin's guild. She would do just about anything but kill. She is also a very lost character. She tries her best to understand herself but without a past she doesn't know who she truly is. I felt her pains, I felt her love, I felt her desperation and I felt her loyalty. I really liked her. Tristam was another pretty awesome character. A little harder to get to know and little less complicated but he was a loyal friend, brave, cunning, and a true hero when it came down to it. I fell a little for him. James was a jerk but smooth, I hated him from the start, but only because his part was written so well.
There is a bit of romance, slow and in the background. It was sweet and so not overwhelming. The story was truly about Kyra and finding herself through a bunch of ruckus, pain, and secrets. It was about the past and the present, two worlds combining, and about friendship. I really did enjoy the story.
I liked it a bunch and I will be waiting to read the next book.

Email: liviablackburne [at] gmail [dot] com

Twitter: @lkblackburne

Facebook