Delightful Discoveries are books that I have discovered recently... old, new, just released... from blogs, Goodreads, libraries, friends, or bookstores.
No parents. No limits. No clue what they're in for.

Shy, cautious Claire has always been in her confident older sister's shadow. While Miranda's life is jam-packed with exciting people and whirlwind adventures, Claire gets her thrills vicariously by watching people live large on reality TV.

When Miranda discovers her boyfriend, Samir, cheating on her just before her college graduation, it's Claire who comes up with the perfect plan. They'll outshine Miranda's fame-obsessed ex while having an amazing summer by competing on Around the World, a race around the globe for a million bucks. Revenge + sisterly bonding = awesome.

But the show has a twist, and Claire is stunned to find herself in the middle of a reality-show romance that may or may not be just for the cameras. This summer could end up being the highlight of her life... or an epic fail forever captured on film. In a world where drama is currency and manipulation is standard, how can you tell what's for real?
A Million Ways Home by Dianna Dorisi Winget






A moving middle-grade story about love, loss, and the unlikely places we find home.




Poppy's life has been turned upside down after her grandma (and guardian) had a stroke and ended up in the hospital. But Poppy is working on a plan to help Grandma Beth so their life together can go back to normal. But when she witnesses an armed robbery, "back to normal" slips even further out of her reach. To keep Poppy safe, the budget-strapped police devise an unusual "witness protection program," wherein Poppy will stay with Detective Brannigan's mother. Soon Poppy is feeling almost at home, even making sort-of friends with a girl named Lizzie and definitely friending Gunner, a beautiful dog with an uncertain fate. But it's still not home. So while she and Lizzie navigate a rocky friendship and plot to save Gunner's life, Poppy also tries to figure out a new plan to save Grandma Beth and their home, all while avoiding a dangerous robber who might be searching for her. But what if Grandma Beth can never come home and the robber is put behind bars? What will happen to Poppy then?




Ever since Jackie moved to her uncle's sleepy farming town, she's been flirting—way too much—with her cousin, Marcus. Her friendship with him has turned into something she can't control, and he's the reason she let her best friend, Ellie, leave. But now Ellie has been missing for months, and the police are looking for her body. Swamped with guilt and the knowledge that being with her cousin would tear their families apart, Jackie pushes Marcus away. Fall out of love. That's the plan.

Like she wanted him to, Marcus falls for a new girl—but something isn't right about her, and Jackie's search for the girl's secrets only drives the wedge between Jackie and Marcus deeper. When Marcus pays the price for someone else's lies and the mystery around Ellie starts to break, Jackie makes an irreversible choice. She can't leave her first love behind, and she can't let her best friend be her biggest failure.

Her first love is someone she can't have. Her best friend will never come home again. One summer ends everything.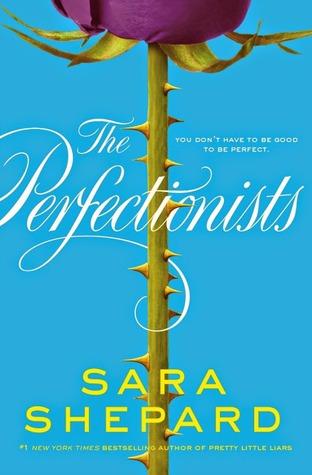 The Perfectionists by Sara Shepard



In Beacon Heights, Washington, five girls—Ava, Caitlin, Mackenzie, Julie, and Parker—know that you don't have to be good to be perfect. At first the girls think they have nothing in common, until they realize that they all hate Nolan Hotchkiss, who's done terrible things to each of them. They come up with the perfect way to kill him—a hypothetical murder, of course. It's just a joke...until Nolan turns up dead, in exactly the way they planned. Only, they didn't do it. And unless they find the real killer, their perfect lives will come crashing down around them.

From Sara Shepard, author of the #1 New York Times bestselling Pretty Little Liars series, comes another story of dark secrets, shocking twists, and what happens when five beautiful girls will do anything to hide the ugly truth.





In a future where girls no longer control their own fates, sixteen-year-old Ivy Westfall has the power to give girls back their choices. If she's willing to commit murder to do it…




After a brutal nuclear war, followed by famine and disease, the United States was left decimated. A small group of survivors eventually banded together, but only after more conflict over who would govern the new nation. Fifty years later, peace and control are maintained by marrying the daughters of the losing side to the sons of the winning group in a yearly ritual. This year, it is Ivy Westfall's turn to be married. Only her bridegroom is no average boy. He is Bishop Lattimer, the President's son. And Ivy's mission is not simply to marry him and bear his children. Her mission, one she's been preparing for all her life, is to kill him and restore the Westfall family to power.




But Bishop Lattimer turns out not to be the cruel, heartless boy her family warned her to expect. And as Bishop and Ivy navigate a tentative friendship that evolves into something more, Ivy is torn between loyalty to her family and following her own heart. She is a teenage girl caught in an adult web of manipulation, lies, and the struggle for power. Ultimately, she must decide what sacrifices are worth making for the lives of those she loves.