Delightful Discoveries are books that I have discovered recently... old, new, just released... from blogs, Goodreads, libraries, friends, or bookstores.

If seventeen-year-old Skyler Evans were a typical Creek View girl, her future would involve a double-wide trailer, a baby on her hip, and the graveyard shift at Taco Bell. But after graduation, the only thing standing between straightedge Skylar and art school are three minimum-wage-months of summer. Skylar can taste the freedom—that is, until her mother loses her job and everything starts coming apart. Torn between her dreams and the people she loves, Skylar realizes everything she's ever worked for is on the line.
Nineteen-year-old Josh Mitchell had a different ticket out of Creek View: the Marines. But after his leg is blown off in Afghanistan, he returns home, a shell of the cocksure boy he used to be. What brings them together is working at the Paradise—a quirky motel off California's dusty Highway 99. Despite their differences, their shared isolation turns into an unexpected friendship and soon, something deeper.
Gritty, romantic, and ultimately hopeful, I'll MEET YOU THERE explores the complicated lives of an unforgettable cast of characters. This is the story of teens outside the picket fence. It doesn't soften the edges of adolescence or the individual consequences of war; it's life on the fringes—maddening, weirdly endearing…and completely screwed up.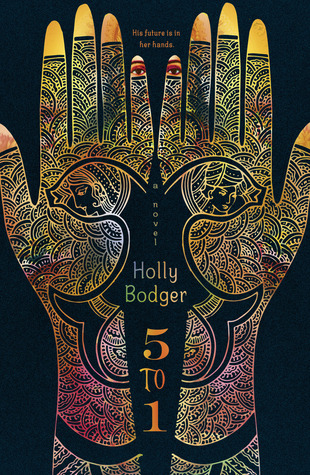 5 to 1 by Holly Badger








In the year 2052, after decades of gender selection, India now has a ratio of five boys for every girl, making women an incredibly valuable commodity. Tired of marrying off their daughters to the highest bidder and determined to finally make marriage fair, the women who form the country of Koyanagar have instituted a series of tests so that every boy has the chance to win a wife.

Sudasa, though, doesn't want to be a wife, and Kiran, a boy forced to compete in the test to become her husband, has other plans as well. As the tests advance, Sudasa and Kiran thwart each other at every turn until they slowly realize that they just might want the same thing.




This beautiful, unique novel is told from alternating points of view-Sudasa's in verse and Kiran's in prose-allowing readers to experience both characters' pain and their brave struggle for hope.


Beneath the streets of New York City live the Avicen, an ancient race of people with feathers for hair and magic running through their veins. Age-old enchantments keep them hidden from humans. All but one. Echo is a runaway pickpocket who survives by selling stolen treasures on the black market, and the Avicen are the only family she's ever known.

Echo is clever and daring, and at times she can be brash, but above all else she's fiercely loyal. So when a centuries-old war crests on the borders of her home, she decides it's time to act.

Legend has it that there is a way to end the conflict once and for all: find the Firebird, a mythical entity believed to possess power the likes of which the world has never seen. It will be no easy task, but if life as a thief has taught Echo anything, it's how to hunt down what she wants . . . and how to take it.

But some jobs aren't as straightforward as they seem. And this one might just set the world on fire

Jackaby by William Ritter




"Miss Rook, I am not an occultist," Jackaby said. "I have a gift that allows me to see truth where others see the illusion--and there are many illusions. All the world's a stage, as they say, and I seem to have the only seat in the house with a view behind the curtain."

Newly arrived in New Fiddleham, New England, 1892, and in need of a job, Abigail Rook meets R. F. Jackaby, an investigator of the unexplained with a keen eye for the extraordinary--including the ability to see supernatural beings. Abigail has a gift for noticing ordinary but important details, which makes her perfect for the position of Jackaby's assistant. On her first day, Abigail finds herself in the midst of a thrilling case: A serial killer is on the loose. The police are convinced it's an ordinary villain, but Jackaby is certain it's a nonhuman creature, whose existence the police--with the exception of a handsome young detective named Charlie Cane--deny.

Doctor Who meets Sherlock in William Ritter's debut novel, which features a detective of the paranormal as seen through the eyes of his adventurous and intelligent assistant in a tale brimming with cheeky humor and a dose of the macabre.



Charlie Hanson has a clear vision of his future. A senior at Brighton School of Mathematics and Science, he knows he'll graduate, go to MIT, and inevitably discover the solutions to the universe's greatest unanswerable problems. He's that smart.




The future has never seemed very kind to Charlotte Finch, so she's counting on the present. She would rather sketch with charcoal pencils, sing in her pitch-perfect voice, or read her favorite book than fill out a college application.




Charlie's future blurs the moment he meets Charlotte. She's not impressed by the strange boy until she learns he's a student at Brighton where her sister has just taken a job. At Charlotte's request, Charlie orchestrates the biggest prank campaign in Brighton history. But by the time Charlie learns Charlotte is ill and that the pranks were a way to distract her sister from Charlotte's illness, Charlotte's gravitational pull on him is too great to overcome. Soon he must choose between the familiar formulas he's always relied on or the girl he's falling for (at far more than 32 feet per second).