Ever since Finn was born, and even before then, we would read to him. We wanted to show him reading from an early age. Now he loves us to read the same books, over, and over, and over. But it is the sweetest thing, when he likes to pick out a book and climb into our laps.
What Finn Reads....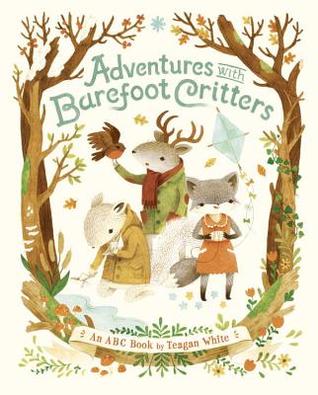 Join an adorable cast of animal characters as they explore the alphabet through the seasons. From gathering honey in spring to building cozy campfires in fall, the friends make the most of each season, both enjoying the great outdoors and staying snug inside. Learning the alphabet is fun when adventuring with these critters, and children and adults alike will delight in Teagan White's sweet, nostalgic illustrations.
What Finn Thinks...
Finn absolutely adores this book.
He especially likes the dinosaur and is always pointing him out. He loves the other creatures as well and likes pointing to the different animals and objects on the page and us explaining to him what it is.
This is one of the books I got in Chicago at BEA, and the first time I read it to him, was on video chat. And he sat completely still the entire time, and even asked me to read it again.
I also love this book, the colors are beautiful, the animals are drawn so cute and perfect.
There was a picture that came with the book, of some of the animals and I actually took it to work and have it at my desk, because it's just so perfect and cute.
The words rhyme and flow perfectly. It not only teaches ABC's, it also teaches the months, and the seasons.
Other books like this: