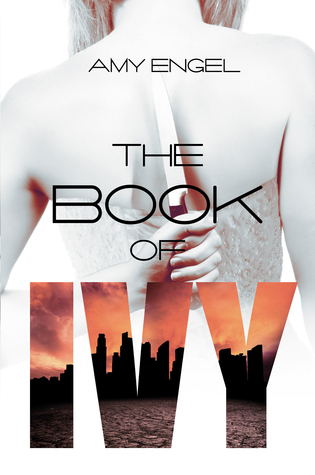 Title: The Book of Ivy
Publisher: Entangled Teen

Publishing Date: November 4th 2014
Pages: 304
Genre: YA Dystopian Suspense/Thriller

After a brutal nuclear war, the United States was left decimated. A small group of survivors eventually banded together, but only after more conflict over which family would govern the new nation. The Westfalls lost. Fifty years later, peace and control are maintained by marrying the daughters of the losing side to the sons of the winning group in a yearly ritual.

This year, it is my turn.

My name is Ivy Westfall, and my mission is simple: to kill the president's son—my soon-to-be husband—and restore the Westfall family to power.

But Bishop Lattimer is either a very skilled actor or he's not the cruel, heartless boy my family warned me to expect. He might even be the one person in this world who truly understands me. But there is no escape from my fate. I am the only one who can restore the Westfall legacy.

Because Bishop must die. And I must be the one to kill him…

This book kind of came out of nowhere for me. I found it on Netgalley and decided to request. I hadn't heard anything about it, hadn't seen it on any blogs, it was brand new to me. I was approved and I sat down to read it. I didn't get up. This book was a complete sleeper for me, I really didn't expect it to be a grand slammer for me, but it was. I couldn't put it down. Great characters, great story, wonderful writing, excellent pacing. I loved it from cover to cover.
Ivy was destined to marry Bishop. Marriage that was planned for 2 generations. Two feuding families, two political sides that were at war, now at peace... First generation to have one boy and one girl on each side. Expect it wasn't supposed to be Ivy, she wasn't the first daughter, she was the second. It was passed down to her, Ivy never had a chance for anything else in life. She knew for a long time that she would marry the president's son, her families enemy, a boy she was meant to kill. what Ivy wasn't prepared for was falling in love.
I really don't know were to start with my review. I am totally obsessed with this book. I read it in one night. Once I started, there was not quitting. It had been a long time since a book grabbed me the way this one did and I can't tell what grabbed me the most... The story, the characters, the writing. It was all so good. I just couldn't put it down.
Ivy was a great character. The character building in this book was phenomenal and I absolutely adored Ivy. She was two sides of one coin. She was tough but vulnerable, loyal but independent, brave but scared. She was real and I just loved her. Her character made sense for the life she lived and the world she was brought up in. She wanted to be her own person but the weight of her family weighed on her heavily.
Bishop.... what to say about Bishop. I fell for Bishop right away. I was amazed by his character. He was nothing as I expected and what I did get was just all awesome. He was sweet, patient, kind, generous, honest, and so much more.
The romance was so so perfect. It was slow building but not. The intensity was slow, the realization was slow, the bond was slow, the falling off the edge, was not so slow. But it wasn't quick either. It was just right. Ivy never knew where she was headed until she was there and Bishop well, he knew what he wanted from the very beginning even if he never admitted it. I am not sure that makes sense, but I think once you read this book, and you must read this book, you will completely understand. The relationship between Ivy and Bishop was slow burning, loving, romantic, and sweet. There was never a big bang moment just a steady build.
The story was wonderful. Yes it was a dystopian and so yes all the predictable elements are there, but there was also an intense suspense that left me breathless with a quickly beating heart on more than one occasion. It stood out for me because of the small differences in the writing style and direction. It was written as a dystopian, a romance, and a suspense thriller. The pacing of course added much to the suspense thriller part of the story. It was very fast paced, very much a sitting on the edge of my seat kind of read.
The only complaint I have...which really isn't a complaint... the ending. Talk about cliffhanger. Argh!!! I have to wait an entire year to get more. I don't like that at all! But I will survive and try to find something to keep me occupied until the next book comes out.
So much awesome in such a small package. In my top reads of the year.



I was born in Kansas and after a childhood spent bouncing between countries (Iran, Taiwan) and states (Kansas, California, Missouri, Washington, D.C.), I settled in Kansas City, Missouri where I live with my husband and two kids. Before devoting myself full time to motherhood and writing, I was a criminal defense attorney, which is not quite as exciting as it looks on television. When I have a free moment, I can usually be found reading, running, or shoe shopping.