Delightful Discoveries are books that I have discovered recently... old, new, just released... from blogs, Goodreads, libraries, friends, or bookstores.
as
If you could trade your biggest burden for someone else's, would you do it?

Five teenagers sit around a bonfire in the middle of the New Mexico desert. They don't know it yet, but they are about to make the biggest sacrifice of their lives.


Lo has a family history of MS, and is starting to come down with all the symptoms.

Thomas, a former child soldier from Liberia, is plagued by traumatic memories of his war-torn past.

Kaya would do anything to feel physical pain, but a rare condition called CIP keeps her numb.

Ellen can't remember who she was before she started doing drugs.

Kit lost his girlfriend in a car accident and now he just can't shake his newfound fear of death.

When they trade totems as a symbol of shedding and adopting one another's sorrows, they think it's only an exercise.

But in the morning, they wake to find their burdens gone…and replaced with someone else's.

As the reality of the ritual unfolds, this unlikely group of five embarks on a week of beautiful, terrifying experiences that all culminate in one perfect truth: In the end, your soul is stronger than your burdens.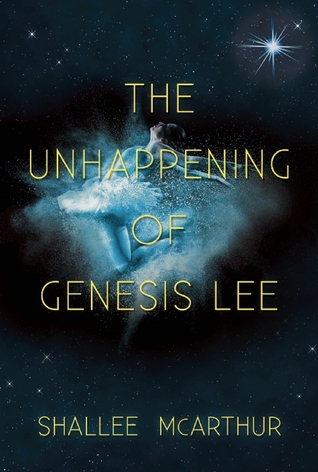 The Unhappening of Genesis Lee by Shallee McArthur






Seventeen-year-old Genesis Lee has never forgotten anything. As one of the Mementi—a small group of genetically-enhanced humans—Gena remembers everything with the help of her Link bracelets, which preserve memories perfectly. But Links can be stolen, and six people have already lost their lives to a memory thief, including Gena's best friend.




Anyone could be next. Which is why Gena is less than pleased to meet a strange but charming boy named Kalan who claims that they've not only met, but that Gena knows who the thief is.




The problem is, Gena doesn't remember Kalan, she doesn't remember seeing the thief, and she doesn't know why she's forgetting things— or how much else she might forget. As growing tensions between Mementi and ordinary humans drive the city of Havendale into chaos, Gena and Kalan team up to search for the thief. And as Gena loses more memories, they realize they have to solve the mystery fast.




Because Gena's life is unhappening around her.







Keeping secrets ruined her life. But the truth might just kill her.

Piper Woods can't wait for the purgatory of senior year to end. She skirts the fringes of high school like a pro until the morning she finds a notebook with mutilated photographs and a list of student sins. She's sure the book is too gruesome to be true, until pretty, popular Stella dies after a sex-tape goes viral. Everyone's sure it's suicide, but Piper remembers Stella's name from the book and begins to suspect something much worse.

Drowning in secrets she doesn't want to keep, Piper's fears are confirmed when she receives an anonymous text message daring her to make things right. All she needs to do is choose a name, the name of someone who deserves to be punished...
Rebels by Accident by Patricia Dunn



A Troubled Teen Sent to Cairo Finds Revolution is Everywhere, Including in Ourselves

When my first party ends in jail, I think things can't possibly get worse. But then my parents send me to my grandmother in Cairo, and I'm sure my life is over. My sittu is Darth Vader's evil sister, and I'm sure the only sites I'll get to see in Egypt are the rooms in her apartment.

Turns out she's not so bad. We ride camels by the pyramids and ice skate at a mall.

As Sittu says, "Sometimes a moment can change your life." But it can change the life of a country too. When a girl named Asmaa calls the people of Egypt to protest, I find myself in the middle of a revolution, running from tear gas and guns.

Oh yeah, and I meet the cutest guy I've ever seen. Fall in love for the first time. And have my first kiss.







Sixteen-year-old Lyric Walker's life is forever changed when she witnesses the arrival of 30,000 Alpha, a five-nation race of ocean-dwelling warriors, on her beach in Coney Island. The world's initial wonder and awe over the Alpha quickly turns ugly and paranoid and violent, and Lyric's small town transforms into a military zone with humans on one side and Alpha on the other. When Lyric is recruited to help the crown prince, a boy named Fathom, assimilate, she begins to fall for him. But their love is a dangerous one, and there are forces on both sides working to keep them apart. Only, what if the Alpha are not actually the enemy? What if they are in fact humanity's only hope of survival? Because the real enemy is coming. And it's more terrifying than anything the world has ever seen.