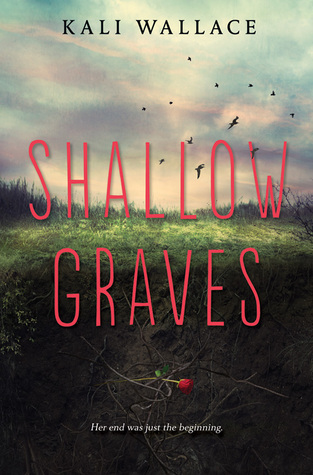 Author: Kali Wallace
Publisher: Katherine Tegen Books
Publishing Date: January 26th 2016
Pages: 368
Genre: YA Psychological Horror
Series: Stand Alone
Source: ARC
When seventeen-year-old Breezy Lin wakes up in a shallow grave one year after her death, she doesn't remember who killed her or why. All she knows is that she's somehow conscious—and not only that, she's able to sense who around her is hiding a murderous past. In life, Breezy was always drawn to the elegance of the universe and the mystery of the stars. Now she must set out to find answers and discover what is to become of her in the gritty, dangerous world to which she now belongs—where killers hide in plain sight and a sinister cult is hunting for strange creatures like her. What she finds is at once empowering, redemptive, and dangerous.

This book was intersting. This book was different. This book was a really good read. I had no problem getting into it from the very beginning to keep reading all the way through. I will admit there were some strange things happening. It almost through me off liking the book at one point, but it recovered and came around and ended good.
Breezy wakes up dead one day... yes dead. And now she is back alive... sort of like a zombie. She likes to kill, she needs to kill.. but she only kills those who have killed. Makes sense. Along her journey to kill and be satisfied, she wants to remember who killed her and why. Track them down and of course get revenge. Her journey leads her to more than that. She discovers so much more. She finds, true evil, danger, monsters worse than her. Everything for a great journey to happiness right???
I really liked this book. It was so original and refreshing. Paranormal horror that is addictive and creepy. I couldn't put the book down. From the very first page I was hooked. It's kind of like a zombie book but not really. Its really different.

It did get a bit wonky in the middle and I didn't know where the story was going... I was a bit worried. I did stick through and it didn't take long to make more sense and I was like ohhhh okay... and kept on reading.

The book really had lots of things going on that did end up connecting in the end. I love it when everything connects. It makes me very happy. There was zombies, fantasy creatures, cults and crazy cult leaders, murder, road trips, death. Yup lots of goodies.

The story was written really well and I adored the main character. She was a mess. She was mad, she was lost, she was not happy but she was determined. She had to kill but she didn't want to kill innocent people. So she chose to kill killers. Makes sense to me. She enjoyed it too. Lost of killers out there for sure. She was also very sarcastic and sassy. So much like.

The ending was good for me. It gave me resolution. The big questions were answered and really I couldn't have asked for a better ending. I do look forward to reading more from this author. Hopefully more of this world. Kind of like a monster hunting dectective crime solving zombie kind of story... like IZOMBIE!!!
Liked it very very very much. It was just what I needed in a horror story.


Kali Wallace studied geology and geophysics before she decided she enjoyed inventing imaginary worlds as much as she liked researching the real one. Her short fiction has appeared in Clarkesworld, F&SF, Asimov's, Lightspeed Magazine, and Tor.com. Her first novel will be published by Katherine Tegen Books in 2016. She lives in southern California.