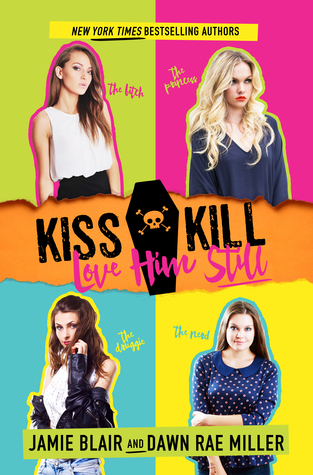 Title: Kiss Kill Love Him Still
Author: Jamie Blair and Dawn Rae Miller
Publisher:
Jamie Blair LLC
Publishing Date: November 10 2015
Pages: 183
Genre: New Adult Mystery
Series: yes but not sure of title.
Source: Kindle
Jackson Landis kept secrets. It's how he got girls into bed, the grades he wanted, and a reputation for being the life of the party.

But now he's dead, and no one knows how or why. Especially not the four girls whose secrets he protected. Secrets so scandalous they could cause each girl to lose something valuable. Secrets so dark, someone may have killed for them.

The four girls - a campus drug dealer, an overweight bookworm, a closeted lesbian, and a spoiled princess have one thing in common – they're terrified the things Jackson knew may not have died with him. As Reggie, Haddie, Val, and Livie try to piece together her own role in Jackson's death, each girl realizes Jackson had some not-so-pretty skeletons of his own.

Which makes a girl wonder, who really wanted Jackson Landis dead?

I am not sure how I came across this book or why it caught my attention but it did. I was happy to see it was a short read and a mystery. I felt it would be a satisfying, short, sweet indulgence kind of read. It was, enough to keep me reading. It was lacking a bit in areas I wish had been better developed, but in the long run... I enjoyed the read.
Jackson Landis was a jerk to the tenth degree... however everyone loved him. Especially 4 girls... well were involved enough with him to have some kind of affection for him and allowing him to run their lives. Well Jackson ends up dead and its foul play. The four girls go through their days after the funeral with secrets unleashed and a determination to find out who killed Jackson and how they will now keep their secrets well secrets.
I will try to keep this simple because it was a fast and a short read.

What I liked...

The mystery. I think the mystery was well done and although I would love to say I feel I know who did it. I don't. I wish I could say its one of the four girls featured in the story, but I can't. I really feel it could be someone so unexpected and maybe someone the book hasn't even introduced fully yet. Maybe even a guy. It was really well done and I have no clue who did it. I thought many times through out the story that I may have an inkling but then my mind would be changed in just a couple of short chapters. So the mystery aspect was good.

The secrets and the drama. That was well done too. Wow so much bad in this book. So may secrets. Tons of betrayals and lies. Yes every now and again I just want bad and shameful and twisted... This book was exactly that.

The fast pace. It was very fast paced. Very easy read and I was happy to keep my little fingers swiping the pages over. I had no need to put the book down and I didn't I read it in one sitting.

What I didn't like...

The character development. Like I said I like the bad, shameful, and twisted but I felt the characters were a little under developed... which can happen in a fast short read.... and I feel they weren't likable. There needed to be a bit more depth for feel this story was at all believable in the way that these girls could be played so easily.

Jackson was a big douche and yet they all loved him. He held there darkest deepest secrets and they didn't care. He used them and all he gave them was sex. I am not sure that the sex could really have been that good. I just couldn't understand for the life of me why these girls put up with it.

I also didn't feel attached and I just couldn't relate to any of these characters. So yes a little more character development would have made the read much better for me.

This is a series... really .... I mean I guess all things come out as series now and I should have figured with it being so short but I really really really wanted to know who did it in the end... now I have to wait. I really hope it doesn't go on forever.


So that's it. More likes than dislikes and the dislikes did not take away from me liking the read. Just if the dislikes had been likes... it would have been a wow read for me.
It was good for twisted mystery and just a few hours of bad. Very enjoyable.
Jamie Blair
New York Times and USA Today Bestselling Author, Jamie Blair, lives in Northeast Ohio with her husband, their two kids, five pound Morkie, and a cat that broke into their house and refused to leave. She won a young author's contest in third grade, but it probably shouldn't count since her mom wrote most of her entry. She promises her mom doesn't write one word of her books anymore! Visit Jamie at www.jamiemblairauthor.com.





Dawn Rae Miller


Dawn is a Twitter and fashion addict whose favorite things in life are her family, gorgeous dresses, tea leaf salad, and French macarons. She splits her time between San Francisco and Northern Virginia, and is always up for a trip to Paris. https://www.goodreads.com/dawnraemiller