Delightful Discoveries are books that I have discovered recently... old, new, just released... from blogs, Goodreads, libraries, friends, or bookstores.

NO ONE EXPECTS A PRINCESS TO BE BRUTAL. And Lada Dragwlya likes it that way. Ever since she and her gentle younger brother, Radu, were wrenched from their homeland of Wallachia and abandoned by their father to be raised in the Ottoman courts, Lada has known that being ruthless is the key to survival. She and Radu are doomed to act as pawns in a vicious game, an unseen sword hovering over their every move. For the lineage that makes them special also makes them targets.

Lada despises the Ottomans and bides her time, planning her vengeance for the day when she can return to Wallachia and claim her birthright. Radu longs only for a place where he feels safe. And when they meet Mehmed, the defiant and lonely son of the sultan, who's expected to rule a nation, Radu feels that he's made a true friend—and Lada wonders if she's finally found someone worthy of her passion.

But Mehmed is heir to the very empire that Lada has sworn to fight against—and that Radu now considers home. Together, Lada, Radu, and Mehmed form a toxic triangle that strains the bonds of love and loyalty to the breaking point.

Once upon a time, in a land far, far away (Los Angeles)…
When Cedric, crowned prince of Caelum, and his fellow royal friends (including his betrothed, Kat) find themselves stranded in modern-day L.A. via a magical portal and an evil traitor named Malquin, all they want to do is get home to Caelum—soon. Then they meet Liv, a filmmaker foster girl who just wants to get out of the system and on with her life. As she and Cedric bond, they'll discover that she's more connected to his world than they ever could've imagined…and that finding home is no easy task…
Worlds collide in The Marked Girl, an exciting fantasy tale turned upside down.



The only life seventeen-year-old Kol knows is hunting at the foot of the Great Ice with his brothers. But food is becoming scarce, and without another clan to align with, Kol, his family, and their entire group are facing an uncertain future.

Traveling from the south, Mya and her family arrive at Kol's camp with a trail of hurt and loss behind them, and hope for a new beginning. When Kol meets Mya, her strength, independence, and beauty instantly captivate him, igniting a desire for much more than survival.

Then on a hunt, Kol makes a grave mistake that jeopardizes the relationship that he and Mya have only just started to build. Mya was guarded to begin with—and for good reason—but no apology or gesture is enough for her to forgive him. Soon after, another clan arrives on their shores. And when Mya spots Lo, a daughter of this new clan, her anger intensifies, adding to the already simmering tension between families. After befriending Lo, Kol learns of a dark history between Lo and Mya that is rooted in the tangle of their pasts.

When violence erupts, Kol is forced to choose between fighting alongside Mya or trusting Lo's claims. And when things quickly turn deadly, it becomes clear that this was a war that one of them had been planning all along.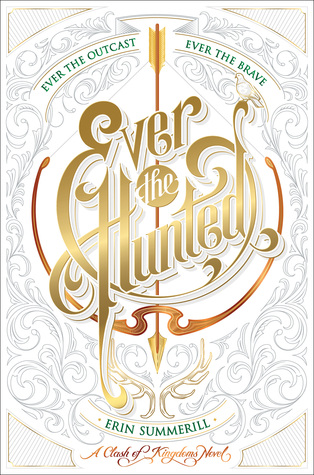 Ever The Hunted by Erin Summerill



Seventeen year-old Britta Flannery is at ease only in the woods with her dagger and bow. She spends her days tracking criminals alongside her father, the legendary bounty hunter for the King of Malam—that is, until her father is murdered. Now outcast and alone and having no rights to her father's land or inheritance, she seeks refuge where she feels most safe: the Ever Woods. When Britta is caught poaching by the royal guard, instead of facing the noose she is offered a deal: her freedom in exchange for her father's killer.




However, it's not so simple.




The alleged killer is none other than Cohen McKay, her father's former apprentice. The only friend she's ever known. The boy she once loved who broke her heart. She must go on a dangerous quest in a world of warring kingdoms, mad kings, and dark magic to find the real killer. But Britta wields more power than she knows. And soon she will learn what has always made her different will make her a daunting and dangerous force.












For eighteen-year-old Gideon Blake, nothing but death can keep him from achieving his goal of becoming a U.S. Army Ranger. As it turns out, it does.




Recovering from the accident that most definitely killed him, Gideon finds himself with strange new powers and a bizarre cuff he can't remove. His death has brought to life his real destiny. He has become War, one of the legendary four horsemen of the apocalypse.




Over the coming weeks, he and the other horsemen--Conquest, Famine, and Death--are brought together by a beautiful but frustratingly secretive girl to help save humanity from an ancient evil on the emergence.




They fail.




Now--bound, bloodied, and drugged--Gideon is interrogated by the authorities about his role in a battle that has become an international incident. If he stands any chance of saving his friends and the girl he's fallen for--not to mention all of humankind--he needs to convince the skeptical government officials the world is in imminent danger.




But will anyone believe him?